Recent consumer trends in supermarkets and trade centers in Hanoi and Ho Chi Minh City have shifted to purchasing more domestic made goods, as a recent survey conducted by the Nielsen Company in HCMC discovered.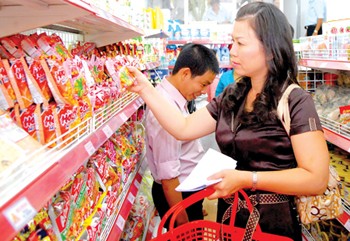 A shopper chooses domestically made instant noodles at a supermarket in HCMC (Photo: SGGP)
This was disclosed at a conference to review two years of the "Be Vietnamese Buy Vietnamese" campaign, started by the Ministry of Finance, on Wednesday.
According to the survey by the Nielsen Company, 90 percent of people in HCMC and 83 percent in Hanoi deliberated more towards purchasing Vietnamese made goods.
Although Vietnamese made goods are increasing their presence at supermarkets and trade centers, they still are inferior in many ways as compared to other commercial goods in markets.
People have also tightened consumption this year, though turnover of garments, footwear and paper has remained at a steady growth rate of 12 percent. Garment businesses in particular have shown an impressive growth in the domestic market, up 30-50 percent over last year.
Vu Kim Hanh, director of the Business Studies and Assistance Center said that though Vietnamese made goods are gaining popularity in big stores and supermarkets in cities, they still have to make their presence felt in traditional and rural markets.
Authorities need to pay more attention to expanding the market for domestic made products.