Supermarkets across Ho Chi Minh City were swamped by consumers over the New Year weekend, with people taking advantage of a long collective break of three full days to shop with their families.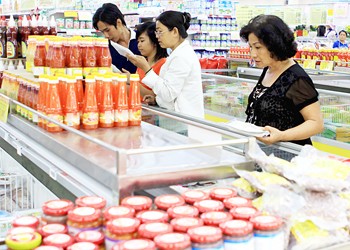 Customers at the Co-op Mart Supermarket in Cu Chi District of HCMC (Photo: SGGP)
Supermarkets like Big C, Co-op Mart, Vinatex and Maxi Mark had to open more counters to serve the soaring consumers, whose numbers increased by 30-40 percent from any other normal day.
Products in high demand were items like jams, cakes, watermelon seeds, dried grapes and 'Lai Shi' envelopes for the coming Tet Lunar New Year.
Representatives of Big C supermarket chain said that this year people had a collective three days off for Solar New Year and a lot of families took advantage of this break to do their pre-Tet shopping. This raised the number of customers by 30-40 percent.
Co-op Mart representatives said that the consumption demand rocketed four times over normal days during the last three days.
Several supermarkets offered many promotional programs. For instance, Big C reduced by 5-50 percent prices of 1,200 commodities and Vinatex offered a 50 percent discount on various items like clothes, cosmetics and foodstuff.