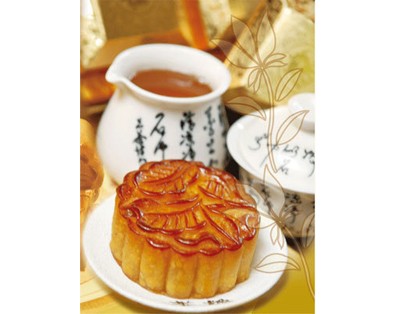 Moon cake, a traditional pastry in mid-autumn festival. (For illustration only)

While concern that the quality of materials and ready-made stuffing to produce moon cakes is not controlled has not been eased. People continue to worry about cheap moon cakes, selling online.
According to Ms. M.A, a small moon cake producer in Ho Chi Minh City, the process to make moon-cake's stuffing was complicated and material prices were rather high. Meanwhile, ready-made stuffing, which costs just around VND50,000-VND58,000 a kilo, was both practical and cheap.
Materials, additives, and ready-made stuffing are mostly founded in shops in Hai Thuong Lan Ong Street, An Dong Market in District 5, and Binh Tay Market in District 6.
The shopkeeper of an oriental medicine shop in Hai Thuong Lan Ong Street, where an anonymous moon cake producer in District 11 went to buy materials, guaranteed that they sold Vietnamese high quality products.
He also said that he usually uses these materials to produce moon cakes, whose prices are around VND200,000-VND300,000/ kg.
However, most materials do not have labels, origins, and expiry dates. Meanwhile, ready-made stuffing is covered by plastic with using instruction printed in Chinese, which confirms public's suspicion that the ready-made stuffing was made in China of unknown quality.
It is reported that moon cakes under major brand-names were selling online with a discount of 20-30 percent, or even 40 percent.
Tran Thi Anh Nguyet, director of Brodard Bakery, said her company did not open any stand in the streets or sell their products on any website, including: banhtrungthu.com, raovat.com, and muaban.net.
Other well-known producers like Kinh Do, Dong Khanh, and Bibica also recommended their customers not to be keen on low prices to "spend money on a quack doctor".