Consumption prices are always on a hike as the Lunar New Year (Tet) season, and there is no exception for this year.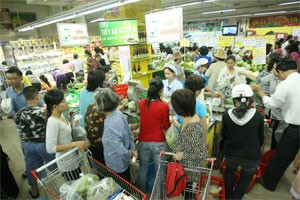 Lot of customers shop at the Sai Gon Co.op Mart at Tet season (Photo:Minh Tri)
Food increased the most, with special Chinese sausages rising to VND10,000 per kilogram and common ones rising VND5,000 per kilogram.
Following is fruits, with black grapes increasing to VND30,000 a kilogram and red ones rising to VND15,000 per kilogram. Hoai Loc mango increased by VND10,000 to around VND70,000-75,000 per kilogram.
Mandarin orange added VND3,000 to VND14,000-18,000 per kilogram.
Experts said some vendors at local markets were trying to cash in on the strong buying at yearend to raise their retail prices.
"The supply to retail markets has recently been very strong to meet up the surging demand at the Tet season, reaching nearly 4,000 tons a day or an increase of 30 percent year-on-year. It will likely to jump up to 6,000 ton several days before the Lunar New Year eve," said Nguyen Thanh Ha, deputy director of Thu Duc Agricultural Market Trading & Managing Co.,Ltd.
To stabilize prices, Hanoi and Ho Chi Minh City have so far spent VND400 billion (US$19 million) and VND380 billion ($18.1 million) respectively. The money is mostly given as interest free loans to 28 participating businesses so they can stock and sell rice, meat, seafood, eggs, cooking oil, sugar and vegetables at lower than market prices.
The 28 companies participating in the price stablizing program include the HCMC Food Company, Saigon Agriculturel Incorporation and Saigon Co.op, a major supermarket chain.
However, price subsidized goods under the price stabilization program are expected to meet just 10-30 percent of the local demand, so they cannot keep consumer prices stable, said experts.
The city's Industry and Trade Department also noted that the amount of goods prepared under the program will only be able to meet around 20 percent of consumers' demand.
Sugar at companies and supermarkets participating in the program is VND4,000 per kilogram lower than other suppliers'. Cooking oil at firms is 40-80 percent lower than the selling market price.
Many people are trying to speculate on the stabilizing price program, buying as much as possible to resell at higher prices, said Bui Hanh Thu, deputy general director of Sai Gon Co.op Mart.
"To curb the issue, we had to limit the daily supply of necessary products in the price stabilization program, making some people misunderstand that the supermarket was in shortage of products," Thu said.
She also said the Sai Gon Co.op mart chain sold more than 50 tons of sugar and tens of cooking oil at stabilized prices.
The consumer price index stood at 11.1 percent in November, the highest level in nearly two years. Deputy Minister of Industry and Trade, Ho Thi Kim Thoa, recently said she expects full-year inflation to enter double digits on the back of higher commodity prices and a slide in the dong. The government had originally targeted containing inflation at 8 percent.