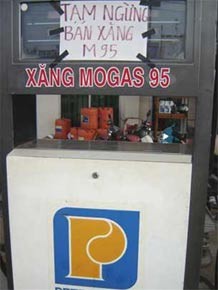 A Petrolimex gas pump closes after its A-95 gasoline is found to contain acetone (Photo: Tuoi Tre)
A possible solution for the remaining stock of acetone-mixed gasoline, imported by Viet Nam's Petrolimex from Glencore Singapore, is that the troublesome petrol might be re-exported.
Representatives of the Vietnamese importer and the Singapore supplier started their meeting over the problem in Ho Chi Minh City on Friday. After the meeting, Petrolimex said it could not release the results because more meetings with competent State agencies of Viet Nam are required.
However, a detail was that acetone, which has damaged carburetors of vehicles, was founded in a sample from Glencore's stock.
A source said Glencore had expressed its willingness at the talks. There is thus a possibility that the remaining stock could be re-exported from Viet Nam.
Related Articles:
Contaminated Petrol Can Be Cleaned but Still Troublesome

Troublesome Petrol Supplier Flies to Viet Nam

Acetone-mixed Gasoline Importers Pledge to Withdraw Problematic Petrol

HCM City Starts Petrol Quality Checks, Nation More Aware