Price of autumn-winter rice has plunged in the Mekong Delta in recent days due to continuous heavy rainfall that has lasted for more than a month.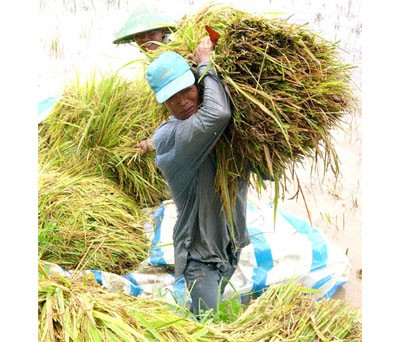 Farmers harvest rice in flood season (Photo: SGGP)
On October 8, the price of one kilogram of IR50404 dropped to VND3,400-3,500. Several rice fields have been flooded and flattened due to long lasting heavy rain.
In Can Tho City, Hau Giang, Kien Giang and Dong Thap Provinces, hectares of rice fields are under floodwaters and in other places the crop has been flattened, from persistent non-stop rain. 
Ngo Xuan Hien, head of the Agriculture and Rural Development in Chau Thanh A District in Hau Giang Province, said harvesting costs have doubled as combine harvesters cannot operate in wet fields. Farmers have had to hire manual labor to cut their rice crop with hand sickles.
Price of rice has dropped by at least VND1,000 a kilogram and it is becoming difficult to sell the damp rice.
Chau Thanh A District has 9,000 hectares of autumn-winter rice crop but only 40 percent of this crop has been harvested so far.
Huynh Phu Loc, a rice trader in Lai Vung District in Dong Thap Province, said that several traders have stopped purchasing rice because the rice quality has gone down from long-lasting rainfall and consumption is still rather low.