The big year-end sales programs launched by the major home appliances stores in Ho Chi Minh City last weekend have lured thousands of bargain hunters from near and far. Certainly the customers benefit but what about the store owners?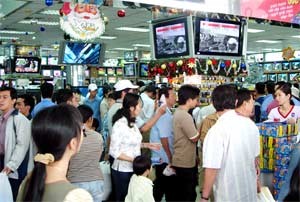 Bargain hunters crowd the Sai Gon-Nguyen Kim home appliance store in Tran Hung Dao Street for the year-end sales (Photo: T.Kh.)
The Saigon-Nguyen Kim store in Tran Hung Dao Street was the first cab of the rank, offering huge discounts on mostly LG appliances like televisions and DVD players.
After seeing hordes of bargain hunters flock to Saigon-Nguyen Kim on the first day, other stores like Thien Hoa, Cho Lon and Loc Le began marking down LG appliances in a big way to lure shoppers back.
In fact, some of their discounts on LG products are even greater than at Saigon-Nguyen Kim. For example, an LCD television set from LG is some VND100,000 cheaper at these other stores during the sale.
One of the retailers accused LG of giving the green light to Saigon-Nguyen Kim to offer the heavy discounts. Other stores have had to knock their prices down even lower just to keep their sales ticking over.
"Huge discounts like that are bound to affects our profits, so we'll be asking LG for compensation. If they refuse, we will boycott LG products and even sue the manufacturer for not having a consistent agent policy," he said.
A source at LG responded by saying that the company had never offered to support Saigon-Nguyen Kim in any major way. LG merely had some surplus stock and supplied it to Saigon-Nguyen Kim for the year-end sale.
It was the store that inflated the sales promotion out of all proportion, the source said.
The people shopping at Saigon-Nguyen Kim also have a problem to contend with: the supermarket-style method of paying for their purchases.
For Vietnamese people, paying at a counter for something displayed in another area of the store feels somewhat odd, and it means they don't get advice from salespeople or get their intended purchase tested.
They worry that the appliance they've just bought could be faulty. In other words, they miss the personal touch.
Related article: