Cooking gas has become more expensive with several companies announcing a hike in retail prices with effect from January 1.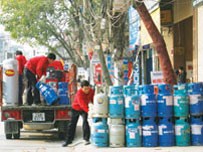 The Ho Chi Minh City's gas firms such as Sai Gon Petro, Total and Elf Gas started to apply new price from January 1, 2010.
Saigon Petro Gas increased the price of its 12–kilogram cooking gas cylinder by VND4,000 to VND271,000.
Total Gas, Saigon Gas, and Elf Gas increased the price by VND4,000 to VND 8,000.
Earlier, in November, prices had been increased thrice -- Saigon Petro put up prices on the 1st,11th, and 28th by VND14,000, VND5,000, and VND22,000.
Its deputy sales manager, Do Trung Thanh, said gas companies import gas priced in US dollars and international prices increased by US$12.50 per ton at the end of the year.
On November 26 the Government issued a decree banning gas retailers from distributing more than three brands. The decree also requires suppliers rather than retailers to regulate prices from January 15.
Thai Van Chuc, chairman of Vietnam Oil & Gas Materials and Equipment Joint-stock Company, said retailers were responsible for the price rise.
He warned of the possibility of a gas shortage, saying price volatility may discourage companies from importing gas for fear of losses.
Unless the government steps in and orders major gas companies to continue importing, prices may keep increasing, Chuc warned.