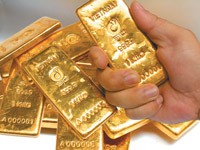 The one-kilogram SJC 9999 gold bar of SJC
The gold business has encountered many difficulties, challenges and failures since 2005. According to Mr Nguyen Thanh Long -SJC General Director, the traditional business mode should be reconsidered. It's time to restructure the business assignments between commercial banks and trading company.
With the State Bank's flexible policies on gold and foreign currencies, businesses have more advantages in trading gold, but the market is even more competitive. So, businesses have to improve their potentials to win market shares.
On the other hand, SJC will continue to pioneer in the plan in 2006. With the consultancy of the World Gold Council and supports from commercial banks, SJC is cooperating with the Viet Nam Association of Gold Trading in opening a Gold Exchange Center providing businesses with the international financial information updated around the clock.
Besides trading gold through bank accounts, SJC will establish a bonded warehouse for gold to further support in gold ingot trading. Thus, Viet Nam will have storage of gold material for trading gold at the international price right in Ho Chi Minh City.
Simultaneously, SJC is supporting the Viet Nam Association of Gold Trading in setting up a gold and gemstone verification center to further confirm requirement of quality for Viet Nam's jewelries.

The one-kilogram SJC 9999 gold bar is one of the SJC's efforts to develop the national gold industry. The Viet Nam gold bar registered with domestic and foreign authorities will be a reliable money tool for payment, storing and even export.
According to the statistical data of the World Gold Council (WGC)
- Total global consumption of gold in 2005: 3,132 tones (worth US$53.6 billion), increased by 25% from 2004, including the amount of gold for investment: 600 tons (increased by 26%), and golden jewelry: 2,736 tons (increased by 5%).
- The Viet Nam market's consumption: 60.9 tons, increased 5.6 tons on 2004 (sheet gold: 34 tons, golden jewelry: 26.9 tons) including SJC sheet gold: 30.774 tons making up 90.52% of the market share (the record high ever so far).