The Vietnam Register, the government body responsible for technical supervision of vehicles, has asked Lisohaka, a unit of VinashinMotor, to recall all Diamond Blue 125 scooters that are equipped with an engine claimed to be made by Honda and have a design similar to Vespa LX model.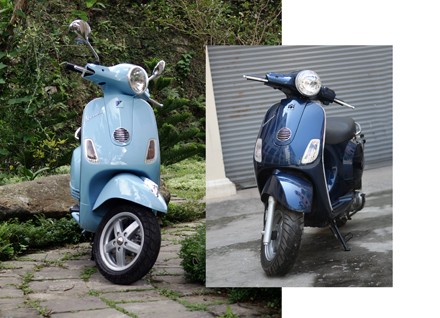 A Vespa LX scooter (L) and a Diamond Blue scooter (R)
Lisohaka launched Diamond Blue 125 on the market on September 1, 2010, saying the scooter was equipped with the AF14E Honda engine produced by Sundiro Honda Motorcycle Co. in China.

After the launch, the model immediately stirred up the public because it was a definite look-alike of the popular Vespa LX model, while a made-in-China Honda engine was mounted on it, and especially the product had a "soft sale price".

Koji Onishi, general director of Honda Vietnam Co. Ltd, told a press briefing in Hanoi on November 16 that the engine used for Diamond Blue is not produced by Honda Sundiro in China or any branches of Honda worldwide.

Honda Vietnam is the only company that has the right to use the Honda trademark in Vietnam, he said, adding that the trademark has been illegally used for the AF14E engine.

Honda Vietnam said it is considering taking legal proceedings against the local motor maker.

When news about the launch of Diamond Blue emerged in local media, Honda Vietnam contracted Honda Motor (Japan) and Sundiro Honda (China) for verification.

Honda Motor confirmed it has never allowed any branches of Honda around the world, including Sundiro Honda, to use its trademark to manufacture the AF14E engine.

While Hiroshi Sekiguchi, president of Sundiro Honda, said Sundiro Honda has never produced the Honda engine type AF14E.

Honda Vietnam sent all the confirmation letters by Honda Motor and Sundiro Honda to the Vietnam Register.

The Vietnam Register sent an official letter to Honda Vietnam on November 9, saying that it had wrote to the Commercial and Economic Counselor Department of the Chinese Embassy in Vietnam.

In a diplomatic note, the embassy said Sundiro Honda confirmed that it does not produce the so-called AF14E Honda engine, the letter said.

Honda Motor stressed that it does not have any relations with engines coded AF14E, or any Diamond Blue scooters that are imported, assembled and distributed in Vietnam.

Meanwhile, Piaggio Vietnam asserted the scooter has a design similar to its Vespa LX model though it has not struck any cooperation deal with Lisohaka, nor granted permission to Lisohaka to use Piaggio design.

In response, Lisohaka general director Vu Manh Ha said engines and parts of Diamond Blue scooters were bought from the China-based company Euro Space, a distributor of Honda products.

Euro Space Co. ordered Honda Sundiro to make AF14E engines specifically for Diamond Blue, he added.

Mr. Ha said before assembling and manufacturing the scooters in Vietnam, Lisohaka bought three scooters and had them assessed by the Vietnam Register.

The Vietnam Register has granted Lisohaka a certificate, certifying that the Diamond Blue brand's AF14E Honda engines are produced by Sundiro Honda Motorcycle Shanghai in China, he added.

Mr. Ha said his company has recalled about 250 scooters since the Vietnam Register November 13 asked the company to recall and stop producing Diamond Blue scooters.