A representative of the local motor maker Lisohaka, a unit of Vinashin Motor, told November 18 that the company has gathered documents to take legal proceedings against the Vietnam Register (VR), the government body responsible for technical supervision of vehicles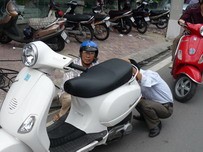 A white Diamond Blue scooter parked in front of a Vespa LX (Photo: Thanh Nien)
According to Lisohaka, after checking, the Vietnam Register granted the certificate on quality of Diamond Blue 125 scooter equipped with AF14E Honda engine so the company could start to launch Diamond Blue scooters on the market.
 
However, recently VR has said it would take back the certificate and asked Lisohaka to stop assembling Diamond Blue scooters.
 
The Market Management Agency has also recalled many Diamond Blue scooters at showrooms.
 
The matter has come up since the scooter, which was assembled from imported parts, drew public attention for it could be mistaken for Piaggio's Vespa LX while a made-in-China Honda engine was mounted on it.
 
Lisohaka has asserted that it imported the engine from Sundiro Honda Motorcycle Shanghai in China.
 
Meanwhile, Sundiro Honda has given different answers to VR when asked whether it has sold the AF14E Honda engine to Lisohaka or not.
 
At the first time, Sundiro Honda replied VR that it did. Therefore, VR granted the certificate on quality of Diamond Blue 125 model.
 
When hearing from Honda Vietnam that the scooter's engine was copied from Honda engine, VR has asked Sundiro Honda again, and Sundiro Honda said in reply that it did not sell the engine to Lisohaka.
 
Based on the second reply, VR has asked Lisohaka to stop production and recall all of its Diamond Blue scooters.
 
The Lisohaka representative said imatating or not imitating [Honda engine] is an internal matter of Honda Vietnam and Sundiro Honda (China), Lisohaka is only a victim.
 
It is irrational when VR has asked Lisohaka to recall the scooter since Lisohaka has legal papers related to the scooter, including the certificate on quality of the engine which was granted by VR, the representative added.
Related article:
Copycat scooter manufacturer asked to recall bikes