Yesterday in Ha Noi, a reduction of the corporate income tax rate from 28 to 25 percent was proposed at a conference held among the country's senior officials and domestic entrepreneurs.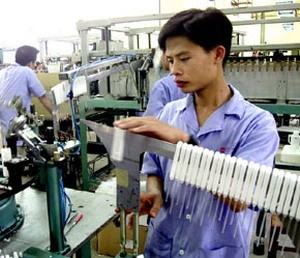 Corporate income tax reduction aims to encourage domestic business growth and attract more foreign investment.
The conference was a result of the coordination between the Central Committee of Vietnam Association of Young Entrepreneurs and the National Assembly's Committee for Finance and Budget.
Deputy Chairman of the National Assembly, Nguyen Duc Kien and approximately 100 young Vietnamese entrepreneurs were invited to join the conference to discuss the drafting of laws regulating value added tax (VAT) and corporate income tax (CIT).
Deputy Chairman Kien called on young entrepreneurs to voice their opinions on the current tax policies to help the Government set up more suitable policies which will benefit the country's economic growth.
Many entrepreneurs proposed a reduction in the corporate income tax rate to even lower than 25 percent if possible as suitable tax rates will attract more investment capital from outside the country and further facilitate Viet Nam's economic development.
The two draft laws have been posted on the website of the Central Committee of Vietnam Association of Young Entrepreneurs (www.dntvn.org.vn) for further discussion. They will be taken into consideration at the third meeting of the twelfth National Assembly organised for May.