The Ministries of Industry and Trade, Agriculture and Rural Development, Public Security, and the Fertilizer Association of Vietnam held a conference to seek measures to prevent counterfeit fertilizer from flooding the market.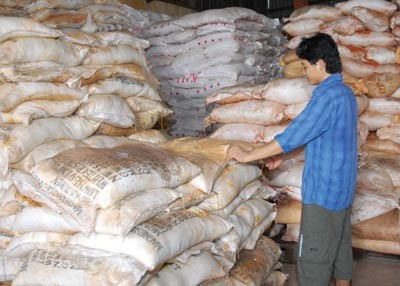 Counterfeit fertilizers were uncovered in Binh Chanh District. (Photo:SGGP)
According to Le Quoc Phong, Vice Chairman of Fertilizer Association of Vietnam, three years ago counterfeit fertilizers and trading in low quality fertilizers mainly occurred in rural and remote areas and in a very small scale, including faking famous fertilizer brand names.
Now, this illegal practice is rampant and not only small and medium enterprises are involved but even fertilizer and plant protection agencies can now produce counterfeit fertilizers by a concrete mixer, fake genuine brands and circulate the product without detection.
Major General Nguyen Ngoc The, Head of the Department of Security, said that counterfeit fertilizer was uncovered in 45 provinces across the country, including Thai Binh, Nam Dinh, Can Tho, Dong Thap, Long An, An Giang, Tien Giang, Hoa Binh, Thanh Hoa, Nghe An, Binh Duong, Dong Nai, Ho Chi Minh City, and the highland provinces.
In the first half of this year, police inspected more than 7,000 fertilizer and plant protection agencies in the south and uncovered many wrongdoings, such as counterfeiting fertilizers of well-known brand names, mixing rock dust into fertilizer to increase weight, failing to show certificate of origin of materials to produce fertilizer, and the quality of fertilizers failing to meet standards.
Noticeably, counterfeiting of fertilizer also occurs in foreign countries. In border provinces, including Lao Cai, Ha Giang, Cao Bang, and Lang Son, police had uncovered low quality fertilizers, mainly imported from China.
Recently, dishonest traders also transferred packages of prestigious Vietnamese fertilizer companies to China to pack with low quality fertilizer then send back to Vietnam to consume or export to a third country.
In 2012 and the first six months of this year, police uncovered 1,390 violation cases, slapped a total penalty of VND17 billion, and seized 917 tons of fertilizers.
Le Quoc Phong, who is also a CEO of Binh Dien Fertilizer Joint Stock Company, said that as the number of fertilizer counterfeiters increased, sales and market shares of many big fertilizer companies were affected.
Nguyen Tan Dat, CEO of Southern Fertilizer Company, said that NPK fertilizer was generally used by farmers; hence, this product was counterfeited the most. The quality of counterfeit fertilizers was only 70-80 percent compared to that of genuine products. Thus, farmers have to pay at least 10 percent for low quality fertilizers, not to mention fake fertilizers. With fertilizer consumption of US$4 billion every year, farmers in Vietnam have to spend an extra $400 million because of low quality fertilizers.
However, why did not plant productivity decrease when farmers used low quality fertilizers?
Mr. Dat explained that the area under agricultural land in Vietnam is equal to 70 percent of that in Thailand but the amount of fertilizers used by Thai farmers annually accounts for 80 percent of that used by Vietnam. This means that Vietnamese farmers used too much fertilizer that they could not realize the impact of low quality fertilizers on productivity. This perceptibly raised costs on plants and created favorable conditions for counterfeit fertilizer to be effective.
Phung Ha, Head of Vietnam Chemicals Agency under the Ministry of Industry and Trade, said that compliance in granting license for fertilizer companies has made the situation more complicated. Regulations and standards for fertilizers remain vague while inspectors lack skills. Control on fertilizers is insufficient as ministries fail to coordinate with each other.
The ministries and Fertilizer Association agreed that more requirements in infrastructure as well as manpower should be imposed on fertilizer companies. In addition, the government should promulgate regulations soon so as to control trading of spurious fertilizer. Sanctions should be strong enough to deter violators. Moreover, it is important to help farmers distinguish low quality fertilizers.