According to Mr. Linh, recently many large scale serious cases have been spotted, investigated and handled. For instance, production and trading of cosmetics and functional food at TS Company, mislabel silk trade of Khaisilk Group.
The urgent issue has negatively impacted residents' lives, businesses and invesment environment.
The most counterfeited items comprise functional food, medicines, cosmetics, agricultural materials, building materials and electronic products. There have been sources specializing in supplying materials and components, packing, stamps and fake labels for production establishments.
Counterfeit trading has been more popular and complicated in e-commerce field.
In fact, the number of cases deterred and handled has neither reduced nor fully reflected violations in the market. In the meantime, work combating counterfeits and IP infringement has not met requirements, faced many difficulties and limitations.
Professor and Dr. Dam Thanh The, member of National Steering Board 389 for fighting against smuggling, commercial frauds and counterfeit goods, said that counterfeit making and trading has not reduced because of huge profit. Meantime, coordination among authorized agencies and businesses has not been efficient. Relevant agencies have not been able to launch a campaign in which the whole people say no to counterfeits.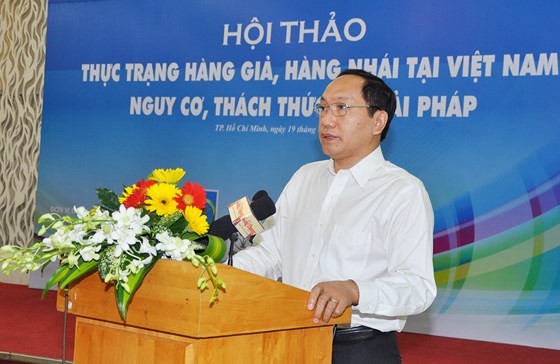 Professor Dr. Dam Thanh The states at the workshop (Photo: SGGP)
In addition, a part of consumers' awareness of trade law has been low. They are short of information to discriminate fake and real goods. Some accept to buy counterfeits because of low prices.
Businesses infringed by counterfeits have not fully shown responsibility to their products in the market and to the community so they have not positively worked with authorized agencies to combat the issue.
Resource limitation has caused many challenges and difficulties for small and medium enterprises in the fight.
Mr. Tran Huu Linh, head of the General Agency of Market Surveillance, said that the agency will require market management forces to intensify market surveillance and take the initiative in information collection and market estimation to build fighting measures in the coming time.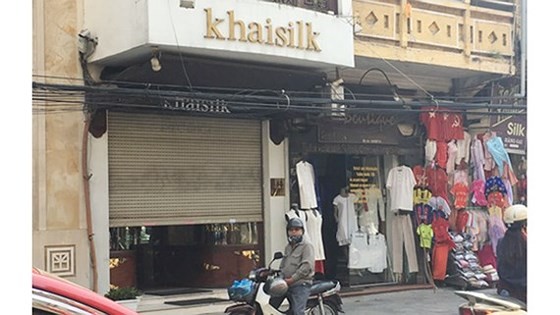 A store of Khaisilk in Hoan Kiem district, Hanoi where a customer spotted a product having both "Made in China" and "Made in Vietnam" labels (Photo: SGGP)
The agency will also propose to supplement and amend some mechanisms and policies to improve legal corridor for more efficient fighting operations.
Maket management force uncovered 34,733 cases, issued the total penalty of VND121.3 billion (US$5.2 million) and seized counterfeits worth VND907 billion ($38.86 million) in 2017 and the first nine months this year.
In the first nine months of 2018, Hanoi and HCMC have sent documents of 11 violations to police agency.