The accounting body CPA Australia has launched an enhanced certified public accountant program in Vietnam that paves the way for candidates from various university majors to join the organization.
CPA Australia launched the program in Hanoi Aug. 4 and in Ho Chi Minh City the following day.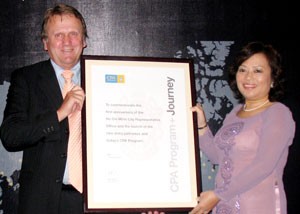 Paul Wappett (L), CPA Australia executive general manager for international development, and CPA Australia's chief representative in Vietnam, Tran Thien Huong, launch the new program in HCM City August 5 (Photo: Tuong Thuy)
CEO Geoff Rankin said the program would benefit people who wanted a career built on professional accounting skills – in Australia, Vietnam and around the world – and who had the desire, appropriate level of competence and approach to ethics and integrity to carry the CPA Australia brand.
He said, "In addition to recognising the prior learning and experience of potential members, we're providing more options for graduates from other disciplines to become CPAs as well as candidates with gaps in their core knowledge, to work towards CPA status."
"That means more global business leaders will now be able to work towards attaining their CPA designation in Vietnam and abroad."

According to Mr. Rankin, the changes will enable CPA Australia to boost its global relevance and presence in Vietnam.
He said the program was a crucial part of his organization's efforts to ensure the designation continued to be recognised by employers globally.

In Vietnam, the new program is a distance educational program. Candidates will be provided with manuals and learning aids, including computer-based education and online support tools.

Mr. Rankin said Vietnam was well placed to recover strongly from the global financial crisis and the demand for accountants in Asia would increase in the years ahead.
CPA Australia's chief representative in Vietnam, Ms. Tran Thien Huong, said the introduction of the enhanced program was good news for many Vietnamese graduates who were previously prevented from becoming a CPA Australia member because their qualifications did not meet requirements.
Also on the occasion of the 1st year anniversary and launch of the program in Vietnam, CPA Australia is offering 40 scholarships to applicants from its partner employers in Vietnam to enrol and sit the pilot exams of the management accounting segment under the foundation level of the enhanced CPA program at the end of 2009.
CPA Australia launched its operations in Hanoi and Ho Chi Minh City in July last year and has more than 130 associate and full members in Vietnam, as well as more than 2,000 members in its Student Passport Program.