The General Statistics Office has reported that the country's consumer price index (CPI) has increased by 3.32 percent in April.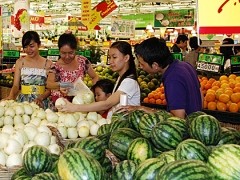 Customers buy food in a Big C Supermarket in HCM City
The country's CPI in the first four months this year rose by 9.64 percent against December 2010 and increased by 17.51 percent compared to the same period last year.
Transport costs increased by 6.04 percent due to the increase in petrol and electricity prices. Fresh foodstuffs increased by 5.61 percent and rice etc by 2.4 percent. 
The high food prices also pushed restaurant food prices by 4.5 percent, while the group housing and building materials market recorded a 4.38 percent rise.
In April, all products saw a price hike, including the post and telecommunication services.
Ho Chi Minh City's CPI in April saw a month-on-month increase of 3.16 percent, while Hanoi's CPI saw a month-on-month increase of 3.28 percent.