The consumer price index (CPI) for May showed an increase of 0.16 percent over April and a year-on-year surge of 0.95 percent, the General Statistics Offices (GSO) said on May 24.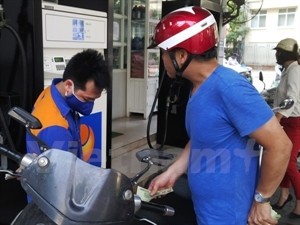 The rise in May's CPI is mainly due to the hike in petrol price on May 5. (Photo: VNA)
Hence, average CPI in the first five months of 2015 increased 0.83 percent compared to the same period last year.
According to Deputy Director of GSO's Pricing Statistics Department, Do Bich Ngoc, the rise in May's CPI is mainly due to the hike in petrol price on May 5, which contributed to a 0.08 percent increase in the CPI.
The rise in electricity price in March plus surging electricity use due to hot weather also pushed the CPI up by 0.11 percent.
Seven out of 11 main commodity groups in the CPI baskets showed price increase, led by housing and building materials, which jumped 1.27 percent since last month.
A 1.02 percent increase was seen in transport service; 0.13 percent for home appliances; 0.39 percent for cultural, entertainment and tourism; and 0.17 percent for goods and other services.
Only restaurant and catering services had a price reduction, which was 0.22 percent compared to April.
Meanwhile, the State Bank adjusted interbank exchange rate between Vietnamese Dong to US Dollar from VND21,458 to VND21,673 to one USD (one percent) on May 7. The move aims to support the country's exports in the context of a strong USD.
The office forecasted CPI in June will see a slight growth due to continued effect from the petrol price hike on May 20 and high demand of electricity during hot weather.