The General Statistics Office in Vietnam has said that the Consumer Price Index (CPI) of the country in September increased by 2.2 percent from August and by 5.13 percent since end of last year.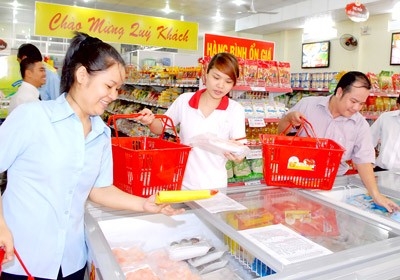 Consumers buy subsidized goods at a Vissan shop in HCMC (Photo: SGGP)
The highest hike is on medicine and medical services with 17.2 percent, of which medical services jump by 23.87 percent due to the recent hospital fee increase.
Education rose 10.54 percent while food services did not change much with a rise of 0.08 percent only over last month.
Of the five major cities in Vietnam, Hanoi's CPI saw the highest increase in September with 2.47 percent, followed by Hai Phong with 2.05 percent, and Da Nang with 1.99 percent.
CPI rose 1.21 percent in Ho Chi Minh City and 1.16 percent in Can Tho City.
The average CPI increase in the first nine months of the year was 9.96 percent higher than in the same period last year.