Recent reductions of fuel prices led to a slight decrease in the country's consumer price index (CPI) in August, according to Do Bich Ngoc, Deputy Director of the Price Statistics Department under the General Statistics Office (GSO).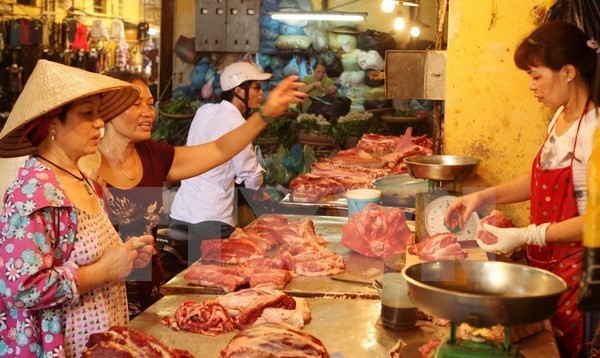 (Photo: VNA)
The August CPI dropped by 0.07 percent month-on-month but rose 0.61 percent year-on-year, raising the eight-month figure to 0.83 percent compared to the same period last year.
Seven of the 11 key goods and service categories saw their price hikes in August. The biggest increase – 0.87 percent – was recorded in the price of education, while the lowest rise of 0.03 percent was seen in medicine and healthcare services .
Slight increases were witnessed in food and restaurants (0.1 percent), beverages and tobacco (0.07 percent), and garments, footwear and hats (0.28 percent).
Meanwhile, four categories that experienced price falls in the month included transport (2.12 percent), housing and building materials (0.45 percent), post-communication services (0.02 percent), and other commodities and services (0.02 percent).
The prices of gold and US dollar in August saw fluctuations due to the devaluation of the Chinese yuan and the State Bank of Vietnam's VND/USD exchange rate adjustment.
According to the GSO, the basic inflation in August increased 0.1 percent against the previous month and 1.98 percent compared to the same period last year, bringing the eight-month figure to 2.19 percent.
Giving forecast on next month's CPI, Ngoc said that the index will be likely to slightly rise because of increasing demands for foodstuff, school fee adjustments, and rising prices of imported commodities.