Even though banks are now offering credit loans and various support packages at low interest rates of only 14 per cent per year, many small and medium businesses are finding it difficult to access bank loans to save themselves from bankruptcy.
Bank loans inaccessible

To help small businesses recover from the economic crunch at the moment, banks were requested by the State Bank to lower loan interest rates from 15 per cent last month to 14 per cent. However, credit is not reaching the needy.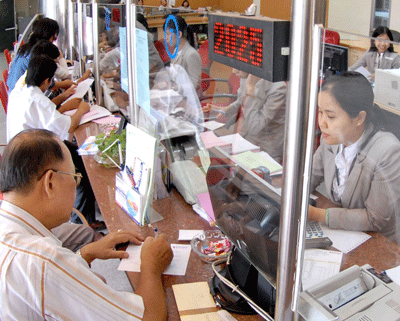 Transactions at a branch of the Southern Bank (Photo: SGGP)
According to Dinh Thi Kim Cuc, director of Phuoc Thinh Nhom private company, due to a 50 per cent decrease in orders in the first six months of 2012, she had to temporarily halt many projects. Moreover, her customers only made small part payments of VND30-50 million at a time (approx US$1,428.6-2,381) while earlier she could invest billions of dong at one time in a project. She now has no choice but to borrow money at sky-high interest rates of 28-29 per cent per annum.
Now, after hearing of the new low interest rate package, she immediately applied for a loan from many banks. But the answer she got was not what she was expecting.
Asia Commercial Bank agreed to a loan at 17.6 per cent annual interest rate, provided she mortgage her company. Kien Long Bank did not ask for a mortgage but offered loan at a high 24 per cent per year. Because of this big difference in interest rates, she finally decided to apply in the first bank.
Tran Quoc Manh, general manager of Saigon Trade and Production Development Corporation and vice president of the Handicraft and Wood Industry Association in Ho Chi Minh City, stated that the loan rate at 15 per cent a year was not accessible to every business. Since banks prefer strong companies rather than struggling ones, it is quite ironic that many healthy businesses can easily obtain this low interest rate loan while those who really need it cannot!
The problem therefore lies in the collateral. Small and medium businesses earlier used their own company as collateral to acquire loans, but now with nothing to hold as security, loan applications are being refused.
With a loan interest rate of only 7-8 per cent per year, businesses can clear the credit fund in 5-6 turnovers. However, with the rate at 15 per cent and insufficient orders, they can barely manage to pay back in about three turnovers at best, let alone show profits. Only when the loan rate is at 10-11 per cent can small companies show profits.
Picky loan approvals

Though it's not fair to solely blame banks for this problem as they also need to manage credit funds, they do show preferences and are extremely picky   when doling out loans.

In the first five months of 2012, the credit growth of many banks showed in minus numbers, even though available credit funds are surplus, especially in banks in the First and Second Groups with an average annual credit growth of 15-17 per cent. Under heavy bad debt, all these banks are hectically seeking customers with feasible projects or any healthy company to offer loans.

According to Tran Phuong Binh, President of Dong A Bank, many banks will face losses in the near future because the current capital raising rate is at 11 per cent a year while treasury bills are sold at a lower rate of only 4 per cent per year, plus a low inter-bank lending rate.

Despite a wish to increase credit growth, banks are very cautious when granting loan applications to avoid bad debts in the future. They are in keen competition for prospective customers, creating a situation where healthy companies are allowed various choices whereas struggling ones still cannot access a loan as wished and have to borrow money at a much higher rate.

An economic guru once said that since banks were also commercial organisations, it is no wonder that they are careful in their actions and sought profits for themselves. The only problem is that banks have already received many privileges and made so much profit while other businesses have had nearly no support at all, hence bankruptcy is affecting many weak companies of late.

According to Truong Thi Thuy Nga, director of Vietcombank in Ho Chi Minh City, the bank has no bad debt at the moment. However, they are very reluctant in granting loans because they want to avoid adverse economic impact on existing healthy companies, keeping them from paying back their debts in time.