Long lines of motor-tricycles loaded with large bags of rice are parked near the Xuan To Bridge in the Mekong Delta province of An Giang that lies on the border with Cambodia. These tricycles have transported rice from Cambodia into Vietnam and are waiting for traders to collect it.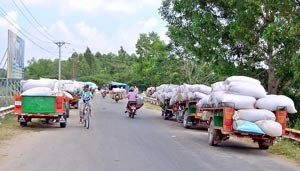 Motor-tricycles loaded with large bags of Cambodian and Thai rice park near Xuan To bridge
On the Vinh Te canal, ships loaded with rice from Cambodia are berthed close together. At least five large purchase points have recently been set up near the canal to purchase rice from Cambodian traders for supplying local markets.

Each point has its own team of stevedores. Po Tha, a Cambodian stevedore, says, "Our team consists of 30 members. We carry over 300 tons of rice from storehouses to ships every day."

"It's estimated that 1,500 tons of rice are transported to An Giang Province from Cambodia through Tinh Bien border gate daily," says Giang Lam, deputy director of the Tinh Bien Border Customs. "Most of them are Khaodak Mali, a long- grain rice variety from Thailand and a small- grain rice variety from Cambodia. Both are good varieties of rice whose flavor, aroma and softness suit the taste of the local people."

In fact, traders from provinces throughout the Mekong Delta, southern granary of Vietnam, flock to the purchase points to buy rice. Khaodak Mali is sold at VND5.300 a kilo and the Cambodian small-grain rice at VND 5,000 per kilo. After they are unhusked, the rice will be distributed through wholesale channels to retailers in the provinces of Tien Giang, Long An, Dong Thanh, and Can Tho; and in HCM City.

Tran Thanh Hao, a rice retailer in Tinh Bien, says farmers in the Mekong Delta grow high- yielding rice like IR50401 and 3217 to supply the local market, but now more and more Vietnamese consumers buy Thai and Cambodian rice because of both their taste and prices.

In fact, Tinh Bien is not the only border gate through which a large volume of Thailand and Cambodian rice are transported to Vietnam everyday. Thousands of tons are finding their way into Vietnamese markets through other Southwestern border gates including Khanh Binh and Vinh Xuong in An Giang Province, Thuong Phuoc in Dong Thap Province and Ha Tien in Kien Giang Province.

The imports from Thailand and Cambodia prove there is a large demand in the local market for high quality, tasty rice.

However, the nation's famed rice granary, Mekong Delta, grows high quality rice for export and high-yielding rice for the local market, while consumers are demanding rice of better quality.

If the national agricultural sector can not supply rice of the quality desired by consumers, they will have little choice but to seek other sources in other countries. Consumers can not be forced to eat rice of lower quality all the time, market observers say.

Huynh The Nang, deputy chairman of the An Giang Province People's Committee, says that agricultural production in the Mekong delta so far has only paid attention to growing high-grade rice for export, and that it is time for the provincial authorities shifted their attention to local demand.

He added that relevant authorities in the agricultural and trading sectors should reconsider the structure of export and local markets for rice and work together to prepare a proper plan to boost production in the coming winter-spring crop to serve both markets.