Convenient stores (C-stores) have never developed as strong as present in Vietnam with the more attendance of both foreign and local retailers, which has rocketed rent rates forcing some firms with weak financial ability to transfer their shops to foreign companies.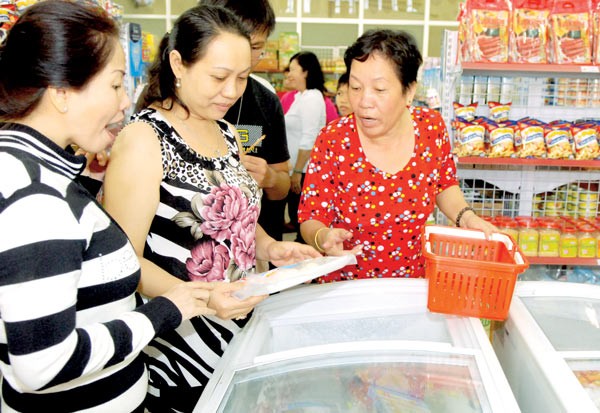 Residents buy food at a convenient store in Hoc Mon district, HCMC (Photo: SGGP)
Among foreign C-store brands who have well performed in Vietnam are Ministop and FamilyMart
Seven System Vietnam Company, owner of Pizza Hut chain in Vietnam, signed an agreement with Seven Eleven Ink from Japan to take 7-Eleven model into Vietnam at the end of July.
The first shop is scheduled to open in HCMC by 2017, the number will increase to 100 three years later and 1,000 ones within 10 years.
The agreement marked the return of 7-Eleven to Asia-Pacific market after it was present in Indonesia in 2009. Vietnam is the 18th market of this brand. The attendance of 7-Eleven is said to further develop the C-store segment and cause severer competition.
Other brands that have come to the country for years like Shop&Go, B'sMart and Circle K have also seen a strong increase in the number of stores.
Casino Group is making hectic preparations to open two C-store systems including New Cho (New Market) and C Express besides its current chain of 30 Big C supermarkets.
In the domestic sector, Saigon Co.op has planned to open an extra of 30 Co.opFood C-stores and 30 Co.op stores this year. Last year, it launched 17 C-stores and 30 stores.
Saigon Trading Group has joined this segment since 2011 and obtained its target to open 60 SatraFood shops in June this year. The group plans to continue broadening its C-store network in HCMC and neighboring provinces by 2020.
The market saw the attendance of newcomer Vingroup last year, who is scheduled to open 1,000 Vinmart stores in the next 3-4 years.
Besides professional retailers, HCMC also has store chains of production companies like Vietnam Meat Industries Limited Company (Vissan), Vietnam Dairy Products Company (Vinamilk) and Saigon Agriculture Incorporation Limited (Sargi).
Reports by Nielsen Vietnam market research company show the number of C-stores in 2014 doubled 2012 number to 348. It is forecast to triple now to hit 1,500 in the next three years. Minimarts also rocketed from 863 to 1,452 in 2014.
The C-store segment will have many opportunities to develop in the upcoming time because the number of Vietnamese per store is up to 69,000. It is 36,000 in the Philippines, 21,000 in China, 5,556 in Thailand and 1,835 in South Korea.
Deputy director general of Saigon Co.op Nguyen Thanh Nhan said that there were two types of C-stores in Vietnam, including minimarts and C-stores opening 24 per seven like FamilyMart and Circle K. local businesses have mainly developed the first model.
Minimarts have the advantage over the second partly thanks to diversified goods and food, he added. Saigon Co.op has considered seeking franchise partners to its Co.opFood chain and would give priority to their employees.
The attendance of new foreign and local businesses in the segment has caused severer competition and some local firms quit.
Many domestic brands have narrowed their business operation from minimarts and left good market share for foreign firms, for instance Vissan has had now sixty out of 110 stores so far.
Company director Van Duc Muoi said that rent accounting for 20 percent of sale costs had been increasing and reduced the price competitiveness.
According to his calculations, rent rate has jumped up 100 percent over five years ago, it averaged only 10 percent in years before that time.