The Ministry of Finance is proposing the cutting of the export duty on gold jewellery from 25 to 30 percent to 0 to 2 percent.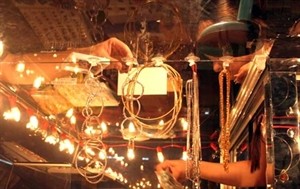 Gold jewellery was put on sale at a store on Hang Bac Street, Hanoi (Photo: VNA)
Under the ministry's draft circular, gold jewellery that is below 95 percent in purity will be exempted from the tax while those with more than 95 percent purity will be assessed a two-per cent tax.
Other Asian countries such as Thailand, India and China have trimmed down their tax on gold jewellery exports to zero, so their gold jewellery industry always has a high export value.
For example, Thailand has an export turnover for gold jewellery of about US$ 3 billion per year while the figure is merely US$ 500 million for Vietnam.
Meanwhile, analysts say Vietnamese enterprises are facing huge difficulties because they have not made appropriate investments in production and cannot control input material sources. As a result, they cannot compete with foreign companies in matters of pricing.
According to current regulations, gold jewellery companies have to buy gold for roughly VND 4 million per tael, which is higher than the average world price for the precious metal. They also cannot borrow money from banks to make jewellery.
Industry insiders reveal that domestic enterprises also find it difficult to export their products because of the high export tariff and high cost of materials.
Domestic gold jewellery is also forecast to face bigger challenges when the country opens its gold market in 2018, with no import tariff.
According to the Vietnam Gold Business Association, with a US$ 3.5 billion turnover and a 25-percent annual growth rate, the domestic gold market has become quite attractive to foreign investors.
Anticipating the huge difficulties, a number of jewellery companies have left the market. It is estimated that roughly 70 percent of 3,000 enterprises have either been dissolved or have stopped production to date.