Farmers from two communes in the Central Highlands city of Da Lat have intentionally destroyed 31 hectares of high-quality tea plants, saying the input costs are too high to maintain them.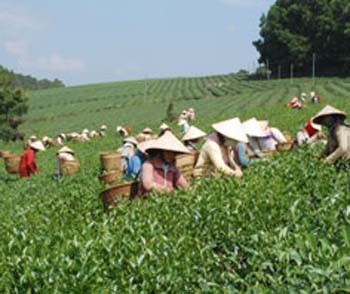 Farmers harvest pick tea leaves in Da Lat (File photo)
According to the farmers, prices of fertilizers, insecticides, gasoline, and the cost of paying leaf-pickers have skyrocketed recently.
Thus, there is no point in continuing to cultivate the crops, which included Kim Tuyen, Tu Quy and O Long tea varieties, they said.
The growers, from Tram Hanh and Xuan Truong communes, had been working in cooperation with the Taiwanese-invested Haiyih Company. But the manner in which the company classified and appraised the quality of their tea products was unreasonable and unprofitable, said the farmers.
Meanwhile, the Haiyih Company said it has always bought tea from farmers at high prices and has several policies to assist them with money to buy gasoline for machinery and to pay leaf pickers.
Seventy percent of farmers growing tea for Haiyih have in fact profited, said the company.
Haiyih representatives added that those who failed to profit had not sufficiently carried out the company's advice on how to grow the plants effectively.
For instance, some farmers used fertilizers and insecticides haphazardly or used incorrect amounts of them, leading to the tea plants' weak development and output.