A fishery logistics service center has been set up on Da Tay Island of the Truong Sa (Spratly) archipelago to help boost the development of the fishing industry there.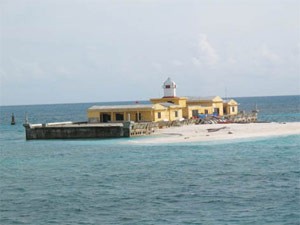 The fishery logistics service center at Da Tay island of the Truong Sa (Spartly) archipelago in Quang Ngai Province. (Photo: ThuysanVietnam)
The center was established by the Ho Chi Minh City-based East Sea Fisheries Exploitation Service Co., Ltd., an affiliate of the East Sea Fisheries Corporation.
It is located around 600km northeast off the coast of Vung Tau city, 500km northeast off the coast of Nha Trang city, and 100km from Truong Sa Lon (Large Spratly) Island.
The center supplies fuel and food at the same prices as inland, provides fresh water free of charge, repairs ships for free, offers boats shelter from storms, provides healthcare services, transports sea products inland, and organizes cultural activities.
On January 4, Deputy Chairman of the Quang Ngai Province People's Committee Truong Ngoc Nhi asked the provincial Department of Agriculture and Rural Development and local authorities of coastal districts to cooperate with the company to introduce the center to more fishermen and help improve the economic efficiency of the local fishing sector.