Dairy farmers in the province of Lam Dong are facing difficulties because the buying prices of milk were reduced by the purchasing company in response to low quality.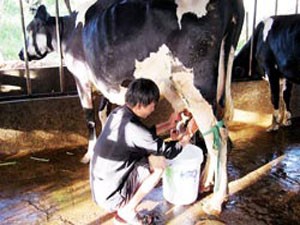 Many dairy famers in Lam Dong face losses

Many face losses
When milk prices were at VND4,500-5,000 a liter, dairy farmer in the province could afford the cost of living. But so far this year, despite increased prices of milk, they have suffered losses due to severe requirements on quality of milk and the increased price of feed.
"My family collects 70 liters of milk from two cows everyday," said Vo Thi Le, of Cau Sat village, Tu Tra commune. "Recently, cow's milk prices have been deducted by VND1,000-2,000 per liter for the reason of quality, so our income has been reduced remarkably and sometimes we earn only VND300,000 (US$18) a week. We cannot cover daily spending with such income."
Many said that they previously could get a profit of VND3,000 a liter of milk, but now they suffer losses. The reason is that the market prices of milk increased by just VND1,500 – 2,000 per liter while cattle-feed prices surged three times.
"Last year I got a bank loan to buy breeding cows and now my debt to the bank is nearly VND40 million. With current prices of cow's milk, I cannot pay the interest to the bank," said Trinh Van Trong, of Di Linh district, Da Lat City.
Other dairy farmers in Lam Dong province are also facing losses due to their selling prices was cut for the reason of low quality.
Vinamilk holds a monopoly on purchasing milk produced in Lam Dong and milk quality tests are conducted in Ho Chi Minh City.
Therefore, when explaining the week-by-week difference in milk quality, Le Thanh Ngoc, the director of Vinamilk's Training Center for Cow Breeders, said, "We take milk samples only, and the testing for milk quality is carried out by an other department of the company."
"They tested some random samples at a time, and the test result will be applied for the whole week and is the basis for payment to sellers of milk.  Those samples which do not meet quality standards will be deducted in prices," said Mr. Ngoc.
Facing complaints about milk quality testing, the quality control department of Vinamilk raised some reasons, including improper preservation of milk in transport, and others factors related to testing equipment and methods of taking milk samples.
Asked why Vinamilk has not conducted milk quality testing at its affiliates in Lam Dong, Mr. Ngoc said that a milk testing machine costs as much as VND1.5 billion (about US$90,000), so the company could not equip all its units in the province with such a machine.
Herds may shrink
Cow's milk prices has recently increased to VND6,900 per liter from the VND4,300 per liter two year ago. However, the price of a milk cow has risen to VND30 million and cattle-feed prices have surges three times.
This situation, which has made worse by the mentioned-above deducted prices, many dairy farmers have sold their cows and turned to growing vegetables and flowers, as seen in Ward 9 of Da Lat city and Da Ron commune of Don Duong district.
If the trend continues, the herd of milk cows in Lam Dong will decline in both quantity and quality. Meanwhile, the plan to develop the herd to 6,000 heads of high productive Holland cows by 2010 is till on paper due to a lack of capital.
The dairy herd of Lam Dong province is centered in Don Duong district with about 600 cows, of which 200 are in the milking period. Every year the province provided the Vietnam Milk Company (Vinamilk) with over 2 million tons of cow's milk.
However, the fact that farmers raise milk cows individually and on a small scale and a lack of advanced techniques has resulted in poor productivity and low quality of cow's milk, said engineer Tran Trung Chanh, an expert at the Agriculture Department of Don Duong District.
Therefore, in order to develop a herd of milk cows, it is needed to apply a concentration model for cow breeding, and train farmers in breeding techniques, Mr. Chanh said. To create healthy competition in terms of prices, the province should allow more companies to purchase milk, he added.