The Central Highlands province of Dak Nong called for investment in 40 projects worth VND10 trillion (US$526 million) at an investment promotion conference in Ho Chi Minh City December 17.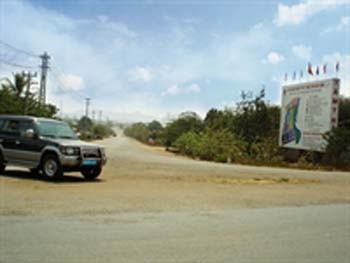 The road to Tam Thang Industrial Zone in the Central Highlands province of Dak Nong. (Photo: Vietnamnet)
The projects include 14 related to industry worth VND3.1 trillion, seven on urban infrastructure worth VND3.2 trillion, five on tourism worthVND2.6 trillion and others related to agriculture, trade and education.
Dak Nong Province contains large amounts of bauxite with a reserve of 3.4 billion tons, or 64 percent of the country's total.
In addition, the province has nearly 100 viable areas where hydroelectric plants could be built, and 120,000 hectares of land for growing coffee, rubber trees and pepper.
Dak Nong is also believed to have tourism potential thanks to its rich culture and history.
Provincial authorities will create favorable conditions for investors and provide capital for building infrastructure in the industry and tourism sectors. Officials will also take responsibility for compensating residents displaced by projects and fund human resources training.