A delegation of 22 industry professionals from the Danish pig-breeding sector including both pig producers and researchers held a meeting with relevant agencies and pig farms on April 1 in Ho Chi Minh City.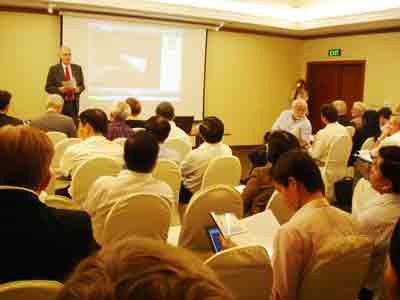 Danish Ambassador John Nielsen opens the meeting (Photo: U. Phuong)
The delegation, led by the Danish pig breeding association Danbred, visited Vietnam from March 27 to April 2 to establish a business partnership with local companies in the pig industry.
The delegation will visit a select number of Vietnamese pig farms to learn more about the pig sector in Vietnam, mostly in Hanoi and Ho Chi Minh City. The visit is the first step in a long-term mission to establish business partnership between Vietnamese and Danish pig producing companies.
The meeting discussed pig breeding, food safety and animal health, all areas within which Denmark is a technological expertise frontrunner. Danish researchers delivered a presentation about the Danish pig breeding system and Danish practices and experiences in food safety and animal health.
Denmark has a very efficient pig production system with 25 million pigs produced annually.  Danbred is an open system consisting of Danish pig producers that work together to continuously improve and develop the genetic base of Danish pigs in order to improve the pig survival rate, incremental growth, meat quantity and quality. Danbred's main emphasis is on genetics since this is a prerequisite for creating good and stable results.
'These issues are of crucial importance to Vietnamese pig producers if they want to compete internationally, on par with pig producers from more developed countries. A focus on strong genetics can increase the producers' productivity output and financial performance', said Lindhart B. Nielsen, Chairman of the pig research centre of the Danish Agriculture and Food Council.
In a talk with a Sai Gon Giai Phong reporter, Nicolaj Norgaard, director of the Pig Research Centre, said that 60 percent of Danish breeders could themselves produce feed for pigs. Meanwhile Dao Dang Trinh, director of Environment Professional Services in Vietnam told SGGP that Danbred Company started in 2001  has provided hundreds of good breed of pigs to the country annually.
Attending the event were Danish Ambassador John Nielsen, representatives from the Institute of Agricultural Science for Southern Vietnam, the Department of Agriculture and Rural Development of the southern province of Dong Nai and representatives of breeding farms in the country