At the 25th Anniversary of Dau Tieng Rubber Company on May 19, the most highlighted achievement of the company is that it has recently invested in some big projects to increase its scale and diversify its production lines, said the management board.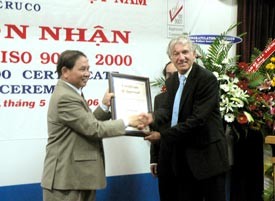 Dau Tieng Rubber Company receives ISO certificate in 2005
For example, Dau Tieng wood processing company, constructed in April, 2005 with the investment capital of over VND 80 billion, has come into operation.
The company has also purchased shares of Thuan An Wood Processing Joint Stock Company, Rubber Industrial Company and Viet - Lao Rubber Joint Stock Company.
The company is building a rubber processing factory with the capacity of two tons an hour in Cambodia.
Increase of its scale and diversification of its production lines are steps towards the foundation of Viet Nam Rubber Group, set up by Viet Nam General Rubber Corporation.