Fuel dealers have asked the Finance Ministry to reduce import duties for gasoline, diesel oil and kerosene, according to the ministry.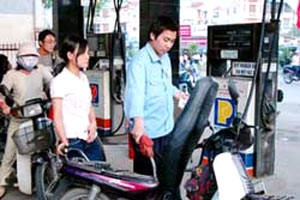 At a gasoline station in District 3, Ho Chi Minh City
Dealers complained that the current import tax rates of 17 percent imposed on gasoline and 10 percent levied on diesel oil and kerosene are too high.
 
Additionally, the rates have not been changed since April 2010, while the global fuel price has risen continuously.
 
They said they have faced difficulties since they are not allowed to praise their selling prices.
 
The dealers said a barrel of A92 gasoline is currently traded at US$94.02 on the world market, while diesel oil fetches US$101.95 per barrel, and kerosene goes for US$102.39 per barrel.
 
At these prices, they lose VND1,700 per litter for each litter of gasoline, VND1,500 for diesel and VND1,800 for kerosene, they added.
 
The ministry instructed dealers not to raise retail fuel prices at the end of October.