Gold prices seem to be following a similar script this year after completing a volatile year in 2008.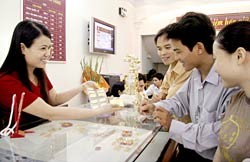 Bao Tin Minh Chau jewelry shop in HCM City. Gold prices have been going up and down this year even as the economic downturn has devastated other asset classes like stocks. (Photo:SGGP)
This time last year (the third week of February to middle of March), the price was above US$1,000 for an ounce.
Then it fell to $850 at the beginning of May before hardening again and going above $950.
In July it plummeted to $750.
But by October it had risen again to $900 before plunging all the way down to $709.58 within a few weeks.
 
From the second week of November until the end of the year, prices were once again up.
Now demand for the metal is high and continues to rise while supply is low.
SPDR, the world's largest gold-backed exchange traded fund, is buying large volumes. In February it had bought 200 tons to increase its holding to 1,029.29 tons.
But Do Minh Phu, deputy chairman of the Vietnam Gold Business Association, advises investors to sell instead of buy gold now.
Gold plunges to $915
 By 4pm March 04, world gold prices had fallen to US$ 915.50 an ounce, a fall of $73.3 in a week.
In Vietnam, SJC Sai Gon Jewelry Holding Company bought gold at VND19.15 million a tael and sold at VND19.21 million, a VND240,000 fall from the previous day.
 A tael equals 37.5 grams.