Mekong Delta rice farmers are worried they won't be able to sell their low quality grains as the demand for high-quality rice rises on the global market.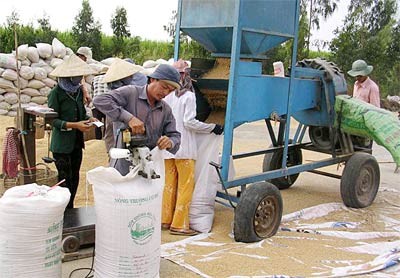 Farmers in the Mekong Delta husk rice (Photo: SGGP)
The Vietnam Food Association (VFA) had warned farmers not to grow their usual low-quality IR 50404 rice in the summer-fall crop as the variety would not be good enough for global markets after the harvest.
 
The Department of Cultivation also issued an advisory that said low-quality paddies should account for only 20 percent of all rice farmland.
 
But farmers ignored the warnings and kept growing IR 50404 and Jasmine rice.
 
VFA chairman Truong Thanh Phong said the quality of summer-fall rice that has been produced is currently very poor. Some of the grains cannot be eaten and have to be processed into other foods, he said.
 
About 500,000 hectares of rice have been affected by salt water, 200,000 of which are affected seriously, he added.
 
Mr. Phong said sales would become even worse when more cheap IR 50404 rice flood into the country from Cambodia.
 
IR 50404 paddy accounts for 25-30 percent of the rice paddies in many regions of the Mekong Delta, exceeding the suggested levels set by the Department of Cultivation.
 
Farmers in An Giang and Dong Thap provinces said they were still cultivating IR 50404 because it was easy to grow and produced big yields.
 
"As for selling, we'll see what happens when the time comes," one farmer said.
 
Historic problem
 
In 2008, Mekong Delta farmers had hundreds of thousands of tons of IR 50404 rice in stock so VFA and analysts warned farmers to limit the cultivation of the variety.
 
However, in the next crop, IR 50404 rice sold like hot cakes, putting heat on local authorities.
 
Experts said it was fickleness and volatility on the part of exporters that had caused the problem. They said exporters arbitrarily either rejected all IR 50404 rice, or inexplicably bought nothing but it, depending on the year. 
 
When exporting 25 percent broken rice, they will buy IR 50404 rice, mostly in winter-spring crops. When exporting 5 percent broken rice, they reject IR 50404, analysts said.
 
Farmers said they are not interested in growing high-quality rice since traders often offer the same price for rice of various varieties.