A Government's new decree that will take effect from mid June regulates that businesses must deposit 10-20 percent value of a consignment when importing scraps as production materials, which might pollute the environment.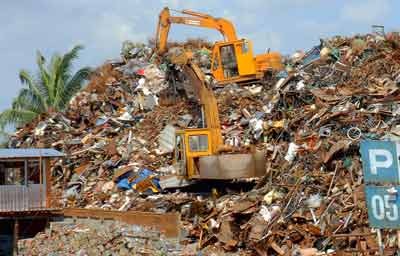 Deposit on imported scrap materials raises difficulties for well operating firms (Photo: SGGP)
This regulation has raised objections from businesses saying it will freeze their capital source for production and further complicate customs procedures.
According to the decree, organizations and individuals must put down a 10 percent deposit to import 500 tons of steel and iron scraps or lower. The deposit rate is 20 percent for 500-1000 ton consignments.
The rate is 10-15 percent for less than 100 tons of paper and plastic scraps, 18 percent for 100-500 tons and 20 percent for more.
The Vietnam Environmental Protection Fund or commercial banks where businesses open their accounts are responsible for receiving and besiege the deposits.
Secretary General of HCMC Plastics Association Tran Hoang Nguyen said that many businesses have disagreed with the regulations saying it would freeze their capital, which mainly come from bank loans with an average interest rate of 7 percent.
Mr. Pham Thanh Tuy, project manager at Newtoyo Aluminum Paper Packaging Company, said that 70 percent of the company's materials for production come from other countries. With an average import price of US$100 million per ton, they must leave as much as US$20 million as deposit.
Mr. Tran Minh Chi, former head of the Vietnam Institute for Tropical Technology and Environmental Protection, said that the regulation aimed to make importers responsible for handling risks and environmental pollution dangers from the import of the wasted materials.
The decree will help reduce the volume of polluting wastes congested at ports, whose treatment has been unknown. However it should not adequate well operating firms with bad ones by forcing all to pay the deposit of 10-20 percent.
Export import procedures have been complicated enough to add the deposit regulation.
Besides, making a deposit is easy but taking it back is improbably easy like that because of related procedures. Importers must present a proposal in writing together with a certified copy of customs declaration affixed with customs agencies' seal on it to get the deposit back. This would slow down the capital rotation of businesses, he said.
Authorized agencies are in charge of handling scrap importers for breaking environmental regulations. The congestion of environmentally-polluting scrap products at ports is partly caused by their weak management ability.
They should focus on reforming administrative procedures and intensifying sanctions on the violators instead of issuing the complicating decree.