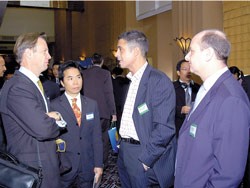 Investors at the forum talk about investment opportunities in Viet Nam
Enterprises will make more profit when investing in Viet Nam, Deputy Prime Minister Vu Khoan told representatives of over 1,200 Vietnamese and foreign companies attending the Viet Nam Investment Forum in Ha Noi.
On March 15, Mr. Khoan said in his opening address at the two-day forum that investment flow into Viet Nam has increased continually for the past five years. The Vietnamese Government has kept improving the investment environment, notably the common Enterprise Law and the Investment Law for both Vietnamese and foreign enterprises alike being in place. 
He said Viet Nam needs investments of about US$140 billion to continually develop in the next five years.
"Therefore, Viet Nam will further reforms in tax, customs, banking, seaport and marine transport services, aviation, insurance, intellectual property, etc. With transparent laws and rules, the goods and service markets will open more to attract foreign direct investment and official development assistance."
Michael Smith, President and CEO of HSBC Bank for Asia-Pacific, said, "Viet Nam has earned investors' trust that they can make profit here and there will be no upheavals at least in the next five years."
Also on March 15, Viet Nam's President Tran Duc Luong received those attending the forum, whose theme is "Viet Nam Investment Forum: Accessing Post-WTO Investment Opportunities."
President Luong said Viet Nam is now focusing on three major areas: mobilization of indirect investment through credit funds, the securities market and insurance; attraction of foreign investment into the service and high-technology sectors; and investment in human resources development as Viet Nam has a large population of young people.
Representatives of foreign investors and international financial institutions expressed their confidence in business and investment opportunities in Viet Nam when the country joins the World Trade Organization, and pledged their long-term investment in the country.
What they said as a sideline of the forum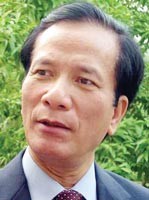 Vo Hong Phuc
Vo Hong Phuc, Viet Nam's Planning and Investment Minister:
Viet Nam's economy is forecast to grow by 8% between 2006 and 2010. This year, the January-February growth was over 8%, which is a promising signal.
Government and private investments are increasing continually. In the coming years, high rates of growth are predicted for the following fields: industry (including material production, engineering and high technology) tourism, post and telecoms, and trade. The private economic sector would grow by 20% per year, the foreign-invested sector by 18%-20%. The 2001-2005 period was the on-the-runway period and 2006-2010 will be the take-off.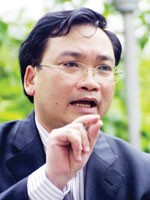 Hoang Trung Hai
Hoang Trung Hai, Viet Nam's Industry Minister:
Viet Nam's estimated need of electricity between now and 2010 is 110-118 billion KW. Therefore, the power industry needs an investment of US$3 billion a year in the given period. Electricity of Viet Nam Corp. can ensure just half of the money. Therefore, the rest must be acquired from overseas sources.
Viet Nam is opening its market, eyeing WTO membership this year. I would stress that the industries of coal, mining, power, etc are available to investors.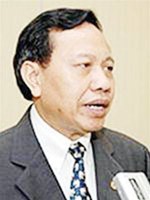 Luong Van Tu

Luong Van Tu, Viet Nam's Deputy Trade Minister:


 
Viet Nam has reached the final period of talks for WTO membership. Viet Nam has concluded bilateral talks with 24 out of 28 countries and territories. Among the other four partners, the US is the biggest, but Viet Nam and the US have seen substantial progress.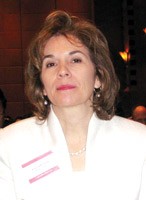 Virginia Foote
Virginia Foote, president of the US-Vietnam Trade Council:
The US has finished 90% of WTO accession talks with Viet Nam. Foreign investors are waiting for Viet Nam's WTO membership. The US business community will urge the US Government to promptly conclude talks with Viet Nam because Viet Nam's WTO membership will benefit both Viet Nam and foreign investors.
US companies show more interest in Viet Nam. We expect the US Congress to grant Viet Nam the permanent normal trade relations status this fall.
Foreign investment flows into Viet Nam has increased for years. Viet Nam should regulate the flows in line with its economic development.
Markus Conaro
Markus Conaro, EU Ambassador to Viet Nam:
Besides industry, Viet Nam needs to lure foreign direct investment into service and new fields like marine transport, telecoms, transport and communications.
I think Viet Nam has no need to hurry up with WTO accession. More important is to pledge to reform the economy, fight corruption, and accelerate equitization of companies. Viet Nam has made many efforts to carry out its pledges. I see no big risks in the Vietnamese economy, but see challenges Viet Nam has to face when joining WTO. However, the challenges go with new opportunities.