Viet Nam remains an attractive destination for foreign investors despite disadvantages caused by the slowdown of global economic development, Permanent Deputy Prime Minister Nguyen Sinh Hung said at a press conference in Ha Noi on March 27.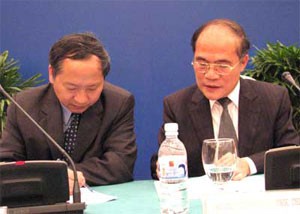 Deputy PM Nguyen Sinh Hung at the press conference yesterday
Deputy PM Hung noted that Viet Nam is experiencing a hard period from the impacts of the world economy which has shown signs of recession.
Nevertheless, the country still attracted more than US$5 billion  in foreign direct investment in the first quarter of 2008, which proved its attractiveness to foreign investors, he said.
The deputy PM affirmed that the Government's top targets are to control inflation, stabilize the macro economy and maintain the economy's high growth rate of about 7.5 percent in 2008.
Besides, the Government will work hard to ensure social welfare stability and improve the living conditions for the poor.
The deputy PM urged businesses to work out appropriate development strategies and apply new technology to minimize production costs.
He called on the public to practice thrift, save energy and join efforts with the Government to maintain economic stabilization and contain inflation.
According to deputy PM Hung, early in April, the Government will meet with leaders of national corporations and the country's 64 provinces and cities on urgent measures to maintain economic growth.