Mining began at the Thach Khe iron mine, the largest in Southeast Asia and which accounts for half of Vietnam's iron ore reserves, following a groundbreaking ceremony on September 8.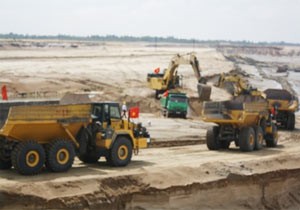 A view of the Thach Khe iron mine in the northern province of Ha Tinh where mining began on September 8 (Photo: Dan Tri)
The mine, in the northern Ha Tinh Province, which has an estimated reserve of 544 million tons.
The investor of the mining project is the Thach Khe Iron Joint Stock Co.
In the first phase, the mine is expected to yield 5-10 million tons of iron ore annually.
Speaking at the groundbreaking ceremony, Permanent Deputy Prime Minister Nguyen Sinh Hung said: "The Thach Khe mine is one of the nation's key projects. It will greatly contribute to the economic development of not only Ha Tinh but also north-central Vietnam and even the whole country."
He said issues related to the project, such as environmental protection, relocation and resettlement of residents, and training miners should be resolved satisfactorily.