Deputy Prime Minister Hoang Trung Hai and the Director of World Bank in Vietnam, Ms. Victoria Kwakwa held a meeting on July 10 to discuss and resolve issues that are de-accelerating the disbursement of Official Development Assistance (ODA) for projects in Vietnam.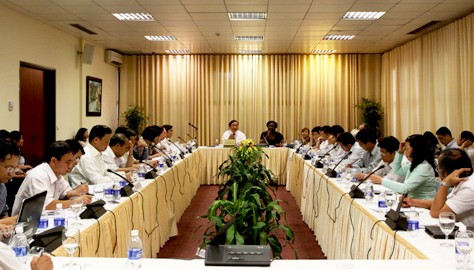 The panorama of the meeting hosted by Deputy Prime Minister Hoang Trung Hai and the Director of World Bank in Vietnam, Ms. Victoria Kwakwa. (Photo: Ministry of Planning and Investment)
According to a report presented by the Ministry of Planning and Investment at the meeting, the disbursement of ODA in Vietnam was slower than international rate.
In a total of US$24.4 billion ODA funds for contracts signed, only $8.8 million were disbursed for programs and projects.
Ministries and localities have huge funds, but have not yet disbursed by WB are the Ministry of Transport, Ministry of Trade and Industry (mainly for EVN projects), and the Ministry of Agriculture and Rural Development.
Analyzing the details of each project that was delayed, Ms. Victoria Kwakwa said so far there were only five that made considerable progress among nine projects on the list.
However, Kwakwa suggested taking out of the "black list" two projects, including the Project of Urban Water Supply and the Project of Improvement of environmental sanitation of the central coastal provinces.
Deadline for the Urban Water Supply Project which is running into obstacles in Ha Tinh Province and Ho Chi Minh City will be extended till June 30, 2013.
Ms. Kwakwa added that several other projects have made progress but still much more effort is needed.
In particular she said that the project to develop Hanoi urban traffic has been in implementation for five years, but the disbursement rate is only 15 percent, and although the Hanoi People's Committee tried to persuade, she is determined to cancel in order to use funds for other projects.
At the meeting, Deputy PM Hai asked the project investors to report specific problems in the implementation process that caused the delays and to propose measures so that the government and stakeholders will find solutions to remove these obstacles.
The Deputy PM stressed that in the context of economic difficulty and lack of capital for development and investment, the backlog of tens of billions of dollars being disbursed is a paradox and a huge waste.