Vietnam should focus on speeding up disbursement of foreign direct investment and the effectiveness of FDI projects in 2010 rather than seeking fresh investment, Phan Huu Thang, former director of the Ministry of Panning and Investment's Foreign Investment Agency, has said.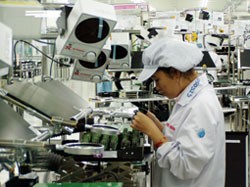 A factory of Japan's Sanyo in the northern Bac Giang Province
He said FDI commitments next year are unlikely to exceed the 2009 amount of US$20.5 billion since investors need a long time to studying the market and complete negotiations.
 
The global economy would not fully recover in 2010 and many of the country's traditional foreign investors would continue to grapple with difficulties while some emergent investors from the Middle East, like Dubai World Group, also face problems.
 
The group had said last October that it considered Vietnam one of its five key investment destinations, but as Nguyen Quang Khai, Vietnam's ambassador to the United Arab Emirates, pointed out, the group's financial difficulties would affect its projects in Vietnam, especially large and long-term ones.
 
Therefore, Mr. Thang said, Vietnam should focus on disbursement and not new investors.
 
"It's a challenge," he warned.
 
Since its present economic scale, infrastructure, and management capabilities make the country's capacity to absorb FDI low, he does not expect impressive figures, he said.
 
He hoped US$11 billion, or slightly more than in 2009, would be disbursed next year.
 
Measures to speed up disbursement have been suggested for a long time but have yet to be implemented thoroughly, he said.
 
At a recent conference on plans for 2010, Minister of Planning and Investment Vo Hong Phuc emphasized measures related to policies, planning, infrastructure development, human resources, management, and investment promotion for attracting FDI.
 
At another forum held in early December, foreign investors expressed great concern about Vietnam's infrastructure. 
 
One said it would be futile to shell out a large amount of money on building a big, modern port if there is no road leading to it or power for its operation.
 
Others, especially property investors, were also concerned with problems related to site clearance.
 
The ministry estimates FDI commitments in 2009 to be $20.5 billion, or just a third of the previous year's figure, $10 billion of which has been disbursed so far.
 
Mr. Thang said,; "In the context of the global crisis, FDI in Vietnam has fallen but the decrease is less than in other countries in the region."
 
In the current situation, the country can absorb only around $10-11 billion annually, he added.