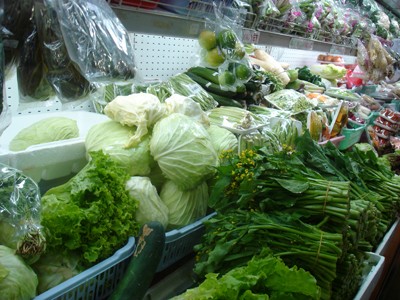 Vegetables at a super market. (Photo: SGGP)
Taking advantage of the reputation of locally grown Dalat vegetables, some traders around the country have been found illegally selling Chinese-imported produce as Dalat varieties.
Imbued with conditions for growing high-quality vegetables, the highland province of Lam Dong is well known for its produce cultivation in the areas of Dalat, Don Duong, and Duc Trong districts which supply vegetables to domestic markets and export more than 1 million tons of produce a year.
Dalat vegetables are priced higher than other produce, however, which has led some unscrupulous traders to falsely label cheap, Chinese-imported vegetables as being grown in the region.
Onions, potatoes, and carrots are the easiest to disguise as traders simply add a little red soil onto the products to fool customers into thinking they were harvested in Dalat.
According to Vo Dinh Vi, chairman of Dalat City's Ward 8 Farmers Association, onions and potatoes are usually harvested in the first quarter of the year. Production then falls as growing areas are reduced, so prices spike.
But current prices of some "Dalat" labeled onions and potatoes were found being sold at relatively cheap prices.
"This is suspicious," he said.
Vietnamese traders import huge amounts of Chinese vegetables and inspectors say they are unable to prevent all cases of fraudulent trade.
Farmers have worked hard to make the Dalat brand name a success, but say protecting the appellation is now the biggest challenge.