"Disorder in banking activities" was the expression used by Tran Minh Tuan, Deputy Governor of the State Bank of Vietnam (SBV) at a review meeting on January 10, of last year's operations of commercial banks based in Ho Chi Minh City.
"Many banks broke the interest rate ceiling to solve their liquidity problem," he said.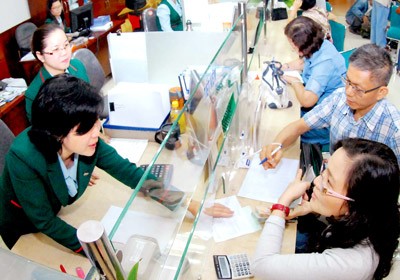 Customers dealing at SCB bank (Photo: SGGP)
The most concerning problem at the meeting was the "race to attract deposits" among banks.
Nguyen Ngoc Thang, Vice Director of the HCMC branch of the State Bank said there is an "unhealthy competition" between commercial banks in the City.
Credit units are trying to attract capital flow towards them. Thus major depositors, who are either financial directors or major accounts of businesses, withdraw deposits and turn to other banks that offer higher rates. Some banks offered interest rates of up to 32 percent a year, Thang added.
However, the cap set by the State Bank of Vietnam is only 14 percent a year.
The central bank said that 90 percent of the deposits of the public are short-term savings, mostly for just one month. Meanwhile, outstanding loans for medium and long-term loans of banks currently account for as much as 47 percent of the total figure.
At the conference on banking in HCMC to scale 2011 and set out lines for 2012, Truong Thi Thuy Nga, director of the HCMC branch of Vietcombank, voiced concern that some banks violated moral business standards, raising deposit rates to mobilize capital at the expense of other banks.
Do Minh Toan , Deputy General Director of Asia Commercial Bank said many small banks without deposit assets are finding it difficult to get loans at low interest rates from bigger banks.
Thus, many banks have to break the interest rate ceiling to solve the liquidity problem, said Toan, "Banks have to mobilize capital with an interest rate of 18 percent a year, so they have to charge borrowers at rates of up to 20 percent a year, discouraging the latter to access bank loans".
Also speaking at the meeting, a representative of the municipal Department of Industry and Trade said there is no other country that has lending interest rates as high as Vietnam.
On his part, Deputy Governor Tuan admitted that the banks had stopped violating the deposit interest rate regulation for some months, just after the central bank cracked down on violators.
"After staying cool for the last few months, the race to attract deposits amongst banks has heated again. After inspecting 68 banks, 62 banks were found to have broken the deposit interest rate ceiling", said Tuan.
"Disorder in banking activities has remained for past two years," Tuan said, adding that the grass root treatment is not to persuade the violating banks but for central bank to stay firm on penalizing banks that breach the interest rate cap.
He asked the banks to provide testimony so that the central bank can impose strict sanctions on violators: "if violations cannot be curbed soon, lending interest rates will never be cut" Tuan said.
He also admitted that the inspectorate tasks of the central bank have not been carried out appropriately and effectively, a fact that ultimately resulted in the failure to detect violators, "the regulations are not completely developed, leaving loopholes for banks to exploit," he said.