The 'Dollar Store' concept is relatively new in Vietnam and was introduced only a few years back with big cities cashing in on it particularly with women customers.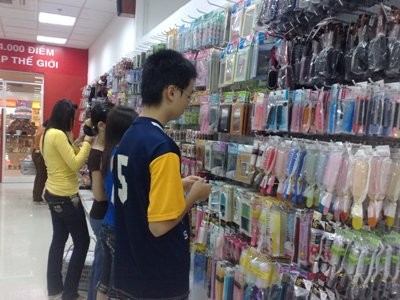 Customers choosing items at a Dollar Store Daiso in Ho Chi Minh City
However, only supermarkets offering foreign brands have achieved some success in this business model.
Dollar stores are quite popular in Europe, the US, and Japan. For instance, Japan's leading retailer Daiso introduced the concept in 1972 and has now grown to more than 2,500 large and small outlets across Japan, and with 500 retail franchises in the US, Canada, and Vietnam. In the US, China and Italy, the dollar store concept has been mushrooming rapidly selling in equivalent to their own currency.
In Vietnam, the dollar stores were launched in 2008 and are flourishing in big cities like Ho Chi Minh City, Hanoi, and Da Nang.
Tri Phuc, a franchisee of Daiso, opened its first outlet in Nowzone Commercial Center on a 200 square meter area. The new supermarket supplies more than 90,000 different kinds of products imported from Japan, such as cosmetics, stationery, fashion items, toys and household goods at a fair price of VND40,000 ($1.9) per item. Tri Phuc now plans to open an additional 20 such outlets in the country.
Economists say that the dollar store concept makes good business sense, especially in the current economic downturn when customers have tightened spending and are favoring buying only need based items. Dollar store businesses can also enjoy high profits, as around 80 percent of products in the store cost lower than their sale price.
Sensing good profits by selling products under this business model, big supermarkets like Co.opMart and Big C have also begun to adopt it in their promotional programs. They noticed that this concept brings in a higher turnover than normal promotional programs. However, supermarkets need the support of enterprises and suppliers to make it a success.
Most of the businesses adopting the dollar store concept are selling foreign brand items while home enterprises in the country are struggling by trial and error.