The gold market in Ho Chi Minh City has been sluggish, with gold prices showing no change for a long time even as the foreign exchange rate and global gold prices fluctuate.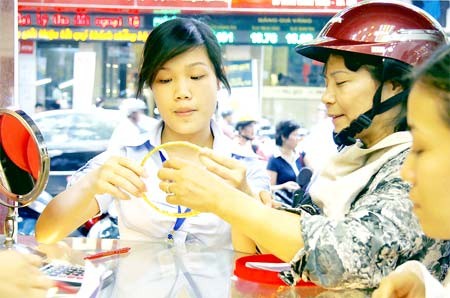 A shopper checks out a gold necklace at a jewelry shop in Ho Chi Minh City (Photo: SGGP)
The global gold prices jumped to US$1,490 per ounce early this week from US$1,429 per ounce in early April, even exceeding US$1,500 per ounce on April 20.
 
Whereas the domestic gold price stood at VND37 million per tael (a tael is equal to 1.2 ounces) from early this month to early this week and then went up to VND37.5 million per tael on April 20 following the rise in world gold price.
 
During the same time last year, gold investors were rushing to buy the precious metal to sell as soon as prices rose.
 
Today, the situation is different. Many gold traders face days without any customers.
 
Though investors realize that global gold prices are inclined to soar, they dare not take risks with the yellow metal. They are afraid that the domestic gold price will not hike as the world price does.
 
Not only shops but also banks have been slow with gold transactions. Most commercial banks have refused to deal in gold as they feel that gold prices are unpredictable and people are wary of borrowing gold to do business.
 
Hence, when people deposit gold they are not offered an interest rate but rather have to pay a deposit fee of 0.2 percent.
 
One customer brought 50 taels of gold to deposit in the Ben Thanh branch of the Agriculture and Rural Development Bank on April 18, but the bank clerk refused to deposit the gold.
 
A representative of the Vietnam Gold Traders Association said the Government should create favorable conditions in the country's economy and mobilize gold from people by establishing gold exchanges.
 
He said that such a large volume of gold deposits in the banks should not be let unused.
 
At a recent seminar on the Vietnam gold market held in HCMC, many participants agreed that the Government should not ban the trading of gold bars completely, as people will then indulge in illegal trade of gold bars.
 
They thought it risky to let people switch to trading gold rings and jewelry, which have no guaranteed quality.
 
Commercial banks should be encouraged to mobilize gold from people at reasonable interest rates and then send this gold to foreign banks to get foreign currency.
 
With the present high inflation, the US, Japan and the European Union continue to print money to put into circulation, so it would seem legitimate to keep gold to ensure property value.
 
Therefore, the seminar participants felt that trading in gold bars must not be entirely prohibited but instead the Government should tighten management of the gold market to keep it operational, under strict guidelines and to prevent speculation.