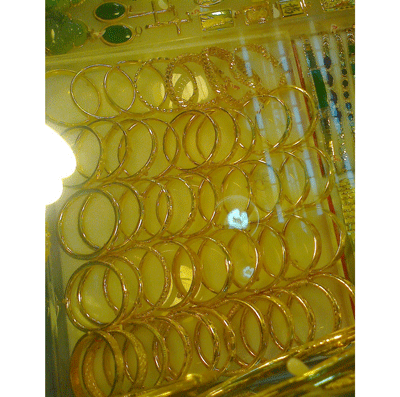 Gold shops sell at VND45 million per tael (Photo: P. Uyen)
All through Tet holiday season, major gold trading enterprises like SJC, PNJ, SBJ, NHJ stayed close until the eighth day of the 'Year of the Dragon', with most quoting prices based on their competitors and global prices.
At the Bao Tin Minh Chau shop, SJC gold buying price is VND44.4 million while selling price is VND45 million. Most gold shops on Tung Thien Vuong Street in District 8 in Ho Chi Minh City raised selling price to VND45.10 million per tael.
The gold market these days is sluggish with most buyers buying small quantities (like 1/10th of a tael of half a tael) as a token of luck only.
Internationally, Comex gold futures posted a strong rally and hit fresh six-week high in the aftermath of a meeting of the Federal Open Market Committee. The Fed indicated it will keep interest rates at exceptionally low levels until late 2014, compared to the previous target of mid-2013.
February gold last traded at $1,701.40, up $36.70 an ounce. Spot gold was last quoted at $1,701.50, up $34.60.