Vietnamese made items only account for 10-15 percent of commodities sold in grocery stores and shops in markets, which otherwise control 80 percent of the country's retail business.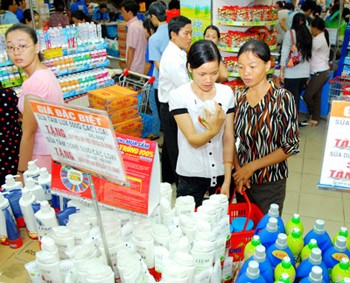 Consumers shopping at a supermarket in HCMC (Photo: SGGP)
Tran Xuan Tang, a stall owner in Dong Xuan Market told representatives from the Ministry of Industry and Trade in Hanoi that business procedures with Vietnamese companies were too tedious with several requirements like business contracts and collateral guarantees.
Nguyen Van Ngoc, owner of a shoe stall shared the same views saying that even though 50-60 percent of commodities in his shop were produced by Vietnamese companies, doing business with them was not easy as they ask for advance before taking orders. Some large companies don't agree to change or return unsold goods. With such rigid business ethics, traders find it difficult to give higher priority to Vietnamese goods.
Do Xuan Thuy, general director of Dong Xuan Company, said a lot of Chinese goods are sold at the Dong Xuan Market. Particularly, souvenir items account for 90 percent of goods; garments, clothes and household goods account for 70 percent and farm produce and food items about 10 percent.
According to traders, Chinese businesses agree to credit payments and don't ask for complex procedures like Vietnamese companies do. Besides, Chinese goods are attractive and sell well, offering a huge variety of goods and Vietnamese traders are free to change items or return unsold goods.
Chinese made clothes, cosmetics, shoes, household items and souvenirs have flooded markets in other northern provinces like Bac Giang and Bac Ninh. 
Tran Toi, a local resident said that a Chinese made suit costs only VND500,000-VND1 million while the same suit made domestically is a  few million dongs more.
Foreign made household and electric goods are also overwhelming the markets in central provinces like Quang Nam and Quang Ngai. Cosmetics, handbags and underwear are gaining over domestic counterparts in Ho Chi Minh City.
At present, credit payments are rather popular in markets. However, several businesses fear risk from this mode of payment thus focus on developing delivery-on-payment. They invest tens of billions of dong to seek a standing space in supermarkets and showrooms to conduct their business.
This has created an advantage for foreign goods to flood markets, holding 70 percent of the country's retail market.
Related article:
HCMC commercial centers prefer selling foreign brands