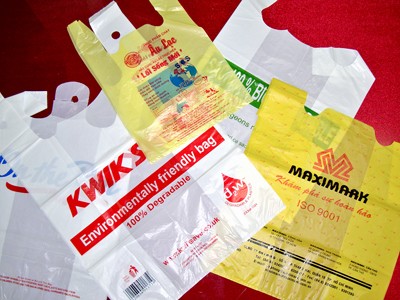 Some of the biodegradable plastic bag designs of Alta Company. (Photo: SGGP)

Biodegradable plastic bags are widely used overseas, as they have recognized the serious environmental threat. This kind of environmentally friendly product has not drawn much attention from domestic firms because they cost more than non-degradable bags.
"In 2002, when most citizens neglected environmental issues, I decided to spend all my money to build a degradable plastic bag factory. One year later, the first factory that produces biodegradable plastic bags in Vietnam was opened at a cost of US$2 million. Many government officials visited the factory and praised us. The quality of our products has been verified by the UK's Symphony Environmental Technologies," Hoang Van Dieu, Alta Co.'s chairman, said.
"Our products, however, were not able to find consumers. Not because of their quality but their expense," he said, adding that the price of biodegradable plastic bags was 25 percent higher than the price of plastic bags, as all the materials are imported.
Not gaining a position in the domestic market, the company found overseas customers, who were more aware of environmental matters.
The company currently exports more than 6,000 tons of biodegradable plastic bags every year to Australia, New Zealand, the UK, Ireland, and the US.
Last year, the company improved its technology and has cut costs by 15 to 18 percent, or five to ten percent higher than the price of non-degradable plastic bags.
"Despite costs for biodegradable plastic bags falling sharply, so far there's only Maximax supermarket using them," he said.
As pollution becomes an urgent problem, eco-friendly products should be used to reduce the damage that the environment is taking everyday.
Biodegradable plastic bags will degrade and disappear in a shorter timescale than typical bags, leaving no fragments, no methane and no harmful residues.