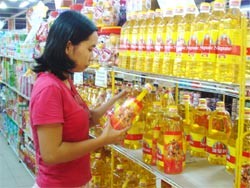 Co.Op Mart chain doubled its turnover on "Tet" holidays. (Photo: VH)
Viet Nam is ranked eighth among 30 countries which retail markets are considered the most successful in the world, evaluated the A.T. Kearney Consultancy Company, the founder of Global Retail Development Index (GRDI).
Viet Nam's open-door policy plus the increasing purchasing power make it an appealing market for big retailers. Many retailing giants, including Big C, Metro Cash & Carry, Parkson, have set foot in Viet Nam. And, many others are preparing to have a share of the market.
More comsumer spending
The total retailing sales reached over VND335 trillion (around US$21 billion) in 2005, released the General Statistics Office of Viet Nam.
Vietnamese people's spending has rapidly increased. Bills worth of VND10 million become a common thing in Parkson Department Store, a Malaysia's retailer in Viet Nam. Zen Plaza, one of the leading fashion centers in Ho Chi Minh City, registered a record bill worth of VND57 billion. Purchasing power in many supermarkets like Co.op Mart and Maximart doubled in "Tet" (New Year) holidays.
Viet Nam, a country with its population over 80 million people, appears to be a profitable destination for foreign distributors.
Wal-Mart (the US), Carrefour (France), Tesco (Britain), Lotte Shopping (RoK), Dairy Farm (Hong Kong) have sent word to Vietnamese authorities to look for business operation. Some of them even open their representative offices and run marketing research while waiting for their opportunities in Viet Nam.
If Viet Nam does not strengthen and improve its domestic distribution systems before opening the market, it will only benefit in production rearrangement. It is obvious that foreign distributors will easily control the domestic retailing business, said the Ministry of Trade.
Viet Nam's current distribution system is outdated. And, the management knowledge, technology and trading methods have not yet reached international standards.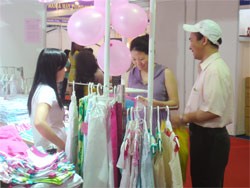 Vietnamese distribution systems must be inproved to attract domestic consumers. (Photo: VH)
Even the so-called effective distribution systems of Viet Nam's large corporations, including Vietnam Dairy Products Joint-Stock Company's (Vinamilk), Kinh Do Joint-Stock Company's, could not be compared with those of foreign companies like Unilever, P&G or Colgate.
The Government will not have the protectionalism policy for long. Vietnamese businesses should be aware of this fact and immediately build large distribution systems; otherwise domestic companies could not grow, said Hoang Tho Xuan, Director of The Domestic Market Policy Department in the Ministry of Trade.
Related Links: