Local retailers are trying to expand their distribution channels in an effort to control the market in the race between local and foreign retailers, which began yesterday when Vietnam officially opened its retail market under WTO commitments.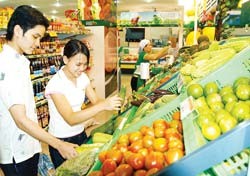 Customers shop at Coop Food

Speaking at last week's press conference, the deputy head of the Planning Department of the Ministry of Industry and Trade, Hoang Thi Tuyet Hoa,  said that no foreign retail group had officially applied to conduct business in the country since Vietnam entered the WTO two years ago.



One reason for foreign retailers' current hesitation is the impact of the ongoing global financial crisis.

The other is that many giant foreign retailers at present only see Vietnam as a potential market in its initial development because of local consumers' low incomes, although Vietnam has been voted the most attractive investment market for retailers among developing countries. 

At present, only several foreign retailers are doing business in Vietnam in the form of limited liability companies or joint ventures including Metro, Casino, Lotte Mart, Circle K, Best Denki and Dairy Farm. Metro is ranked fifth among the top ten leading retailers in the world. 

The hesitation of foreign retailers, however, seems to be a good chance for local retailers to strive for a larger market share before foreign retailers take advantage of the new market rules.

Statistical reports released by the Ministry of Industry and Trade at the conference revealed an ongoing upward trend in the number of supermarkets, commercial centers and convenience stores owned by domestic retailers nationwide since 2005. 

Three years ago, there were 200 supermarkets, 30 commercial centers and nearly 1,000 convenience stores nationwide. These doubled by April 2008. 

In 2010, the number of supermarkets is expected to climb to between 700 and 750, commercial centers to 150 and convenience stores to dozens of thousands thanks to domestic retailers' effort to expand their distribution systems.  

For example, in the period between 2009 -2010, Saigon Co.op, one of the leading domestic retailers, which owns 34 supermarkets and nearly 70 convenience stores country wide, will set up a further 16 supermarkets.  

Vinatex, another leading domestic retailer plans to raise its current number of Vinatexmarts from 50 to 80. 

Hanoi Trade Corporation (Hapro) will have a total of 70 supermarkets and 800 convenience stores by the end of 2010 while Phu Thai Group will operate a chain consisting of 100 supermarkets, 5,000 retail agents and 50,000 retail stores. 

Together with the expansion of distribution channels, some local retailers have recently taken initiatives in opening specialist stores to enhance the quality of their services. 

On December 27, Saigon Co.op opened Co.op Food, the first chain of convenience stores selling fresh vegetables, raw meat and fish, and processed foods. Ms. Nguyen Thi Hanh, general director of Saigon Co.op, said that the services have been welcomed by many working busy people as they are very convenient. 

Expanding the distribution system and at the same time enhancing the quality of services to attract more customers is the motto of many domestic retailers at present in an effort to acquire a larger market share.