Despite the fall in foreign visitor numbers to HCM City in recent months, due in part to the international economic recession and A/H1N1 flu, the number of domestic travelers to the city had increased, with stable growth reported in the second quarter, said the city's Department of Culture, Sport and Tourism recently.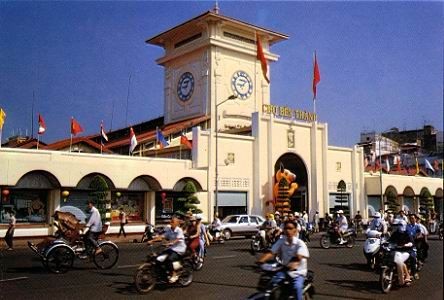 Ben Thanh Market, Ho Chi Minh City
Turnover at restaurants increased by 35 percent, which helped cover the fall in turnover of at hotels.
Many tourist companies dropped tour prices by 30 to 40 percent, helping to attract a large number of domestic travelers, an increase of 30 percent compared with the same period of last year.
Many attractive places such as Ha Long Bay, Phan Thiet, Vung Tau and Nha Trang also saw the number of domestic travelers increase by more than 30 percent.
To attract more foreign and domestic travelers to the city during the remaining months of the year, the city's People's Committee urged related agencies and tourist companies to draw up new tourist programs.
Among the new tourist programs, companies will introduce "Ho Chi Minh City with 100 interesting things," which includes art performances held in Ben Thanh market.