Many farmers in the southeastern province of Dong Nai have switched from growing coffee, pepper and fruit to growing green-peel and pink-flesh grapefruit because of high profits.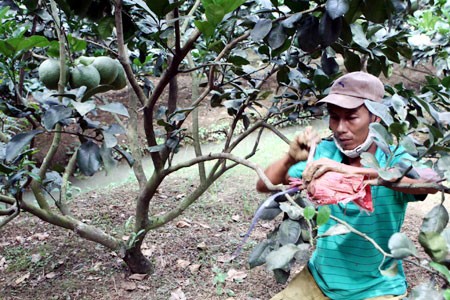 A farmer examines grapefruit trees at the Tan Trieu grapefruit co-operative in the Mekong Delta province of Dong Nai. Many local farmers have switched to growing specialty grapefruit because of high profits. — VNA/VNS Photo Vu Sinh.
In Thong Nhat District's Hung Loc Commune, for example, Phan Van Xich, the first farmer who planted the specialty grapefruit in Hung Loc, said he knew the soil was suited to plant this kind of grapefruit.
Xich said he visited the Cuu Long (Mekong) Delta province of Ben Tre, the birthplace of green-peel and pink-flesh grapefruit, to buy seedlings and intercropped them in his coffee and pepper orchard.
"My two-ha grapefruits have had a stable harvest for two years," he said. "My family has earned a profit of more than VND400 million ($19,000) a year."
At harvest time, traders visit his orchard, offering a price of VND35,000-40,000 (US$1.6- 1.9) a kilo. They harvest grapefruit themselves, he said.
Green-peel and pink-flesh grapefruit, a speciality fruit, is delicious and sweet, and has high demand, especially during Tet (Lunar New Year) when the price normally reaches VND100,000 ($4.7) a kilo.
The fruit is in high demand in large cities like HCM City and Ha Noi.
Other farmers have also intercropped green-peel and pink-flesh grapefruits in coffee or other fruit orchards.
Dang Tuan Thanh in Hung Loc said he cut down 1ha of his 1.5ha coffee orchard to grow green-peel and pink-flesh grapefruit four years ago. The coffee orchard was 25 years old and had a low yield.
Thanh decided to grow the grapefruit after he visited his friend's grapefruit orchard in Dong Nai's Dinh Quan District.
Dinh Quan's green-peel and pink-flesh grapefruits are famous nationwide and have won top prizes at the Southern Delicious and Safe Fruit Contest for many years.
Early this year, Thanh's grapefruit trees began to bear fruit, and he has earned VND20 million ($950) of profits from the first harvest.
Bui Minh Phuong, chairman of the Hung Loc Commune Farmers Association, said the price of green-peel and pink-flesh grapefruit was high in recent years and many farmers planted more grapefruit trees.
"Green-peel and pink-flesh grapefruit is now one of the key fruits here," he said.
More than 40 households in Hung Loc Commune have planted green-peel and pink-flesh grapefruit trees on a total area of 50ha under the model of grapefruit-specialised orchards or grapefruit-intercropped orchards, he said.
Previously, the commune had only 10ha of grapefruit.
Hung Loc authorities have encouraged farmers to set up co-operatives to plant grapefruit trees under the Vietnamese Good Agriculture Practice (VietGAP) standards, he said.
In other districts, including Vinh Cuu, Tan Phu, Dinh Quan and Cam My, farmers have earned profits several times higher than profits from other fruits and trees.
Dong Nai has had 1,900ha of grapefruit as of March, up nearly 1000ha against early 2013, according to the province's Department of Agriculture and Rural Development.
Dong Nai farmers have planted several grapefruit varieties, with green-peel and pink-flesh grapefruits accounting for a large area