The price of dragon fruit, rice and tra catfish has been dropping steadily in the Mekong Delta region.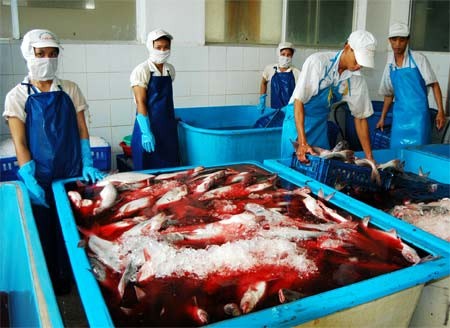 Workers process tra catfish for export at Can Tho Seafood Processing Company in the Mekong Delta (Photo: SGGP)
A kilogram of medium-size dragon fruit sold for VND4,000-5,000 on May 29, while a kilogram of larger-size dragon fruit went for VND7,000-8,000.
 
Merchants said the price of dragon fruit has fallen because local companies are facing difficulty in exporting the fruit, especially to China.
 
The price of un-husked rice has decreased to VND4,900-5,100 per kilogram, depending on its variety, in Bac Lieu, Soc Trang and Dong Thap provinces.
 
Seafood processors have bought the best-quality tra catfish at VND27,000 per kilogram and the second best quality catfish at VND26,000 per kilogram, down 1,500-2,000 per kilogram compared to early May.
 
Nguyen Van Dao, general director of Go Dang Seafood Joint Stock Company, explained the drop in catfish prices to farmers' refusal to sell their fish at VND28,500 per kilogram a few weeks ago as they expected the price to go up more.
 
However, the price began to drop since and farmers rushed to sell their fish, which caused the fall in prices.
 
Mr. Dao said the tra catfish export market remains good, with the price of catfish exported to Europe being US$3.4-3.5 per kilogram and to the US being US$4.1-4.2 per kilogram.
 
He added farmers need not sell their fish in a hurry at low prices to suffer losses.